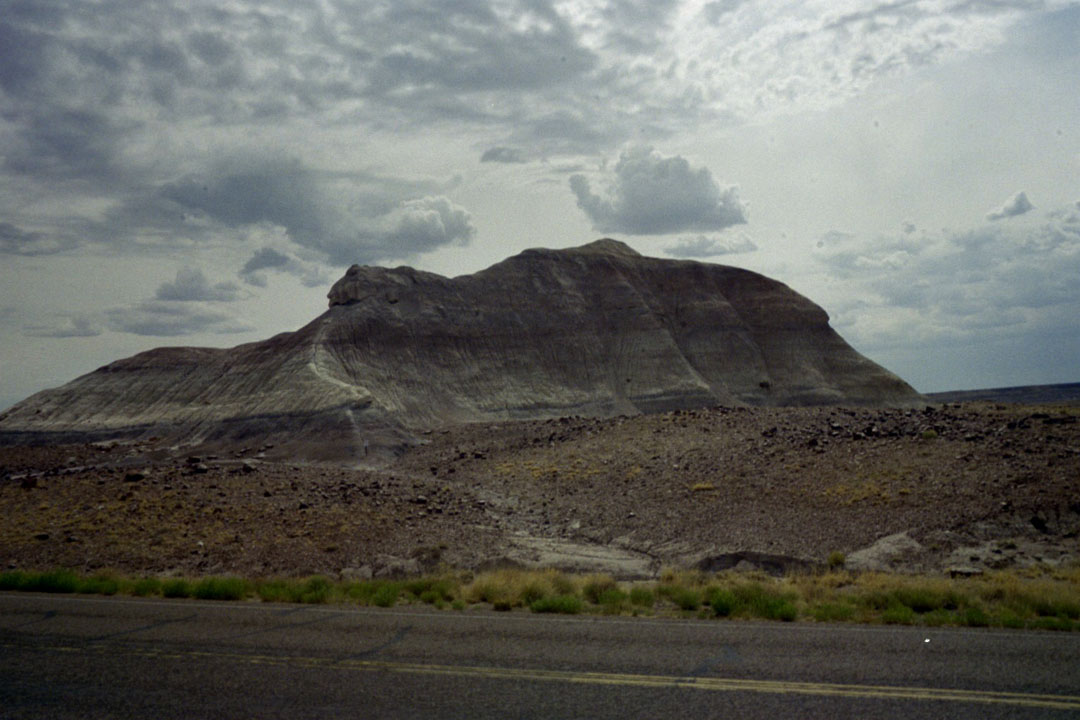 In the southern area of the park, the Painted Desert ends and the Petrified Forest begins. Over 200 million years ago a forest was buried under the mud of a river system, and over time crystallized from wood into quartz. There are logs scattered over the plains, that are cracked but still in good condition.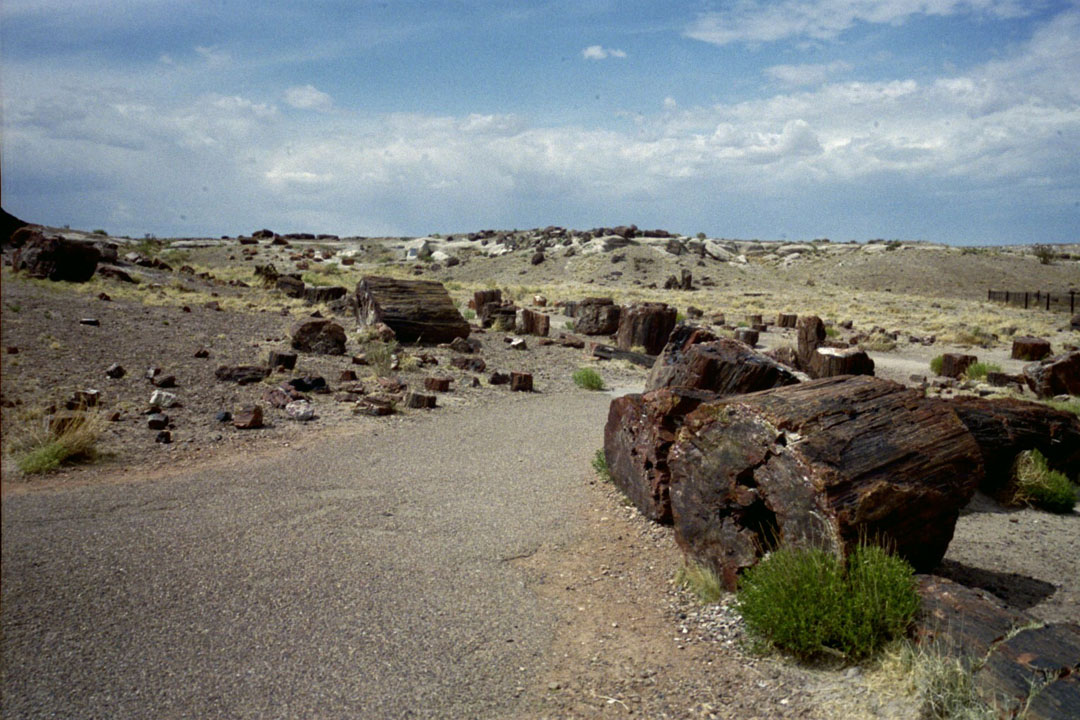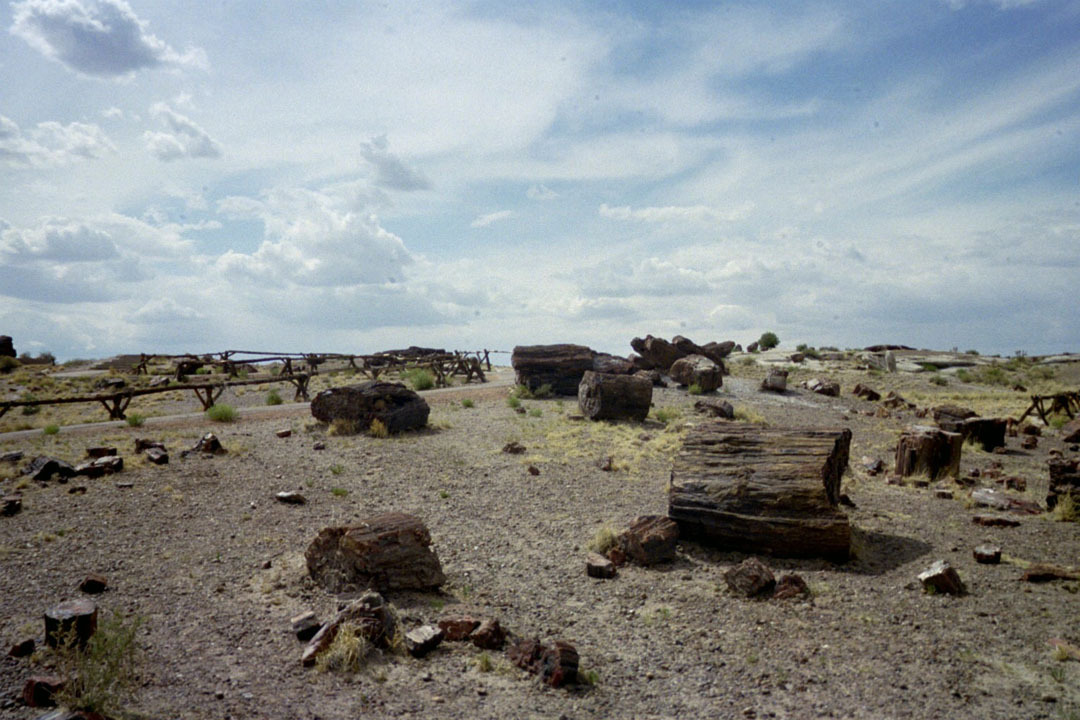 I finally got into Holbroke about 4pm and checked into the Wigwam Village. This was the stop I wanted to make the most on all of Route 66. There used to be several wigwam villages along the route but the only ones that are still in business are the one in Holbroke and one in San Bernadino in California, but the guidebooks say that that one is in a sketchy neighbourhood.
Each room at the Wigwam Village is in a large concrete tee pee and outside each door is a classic car from the Route 66 era (1930's-70's). Oprah had apparently spent a night here a couple of weeks before on her summer vacation.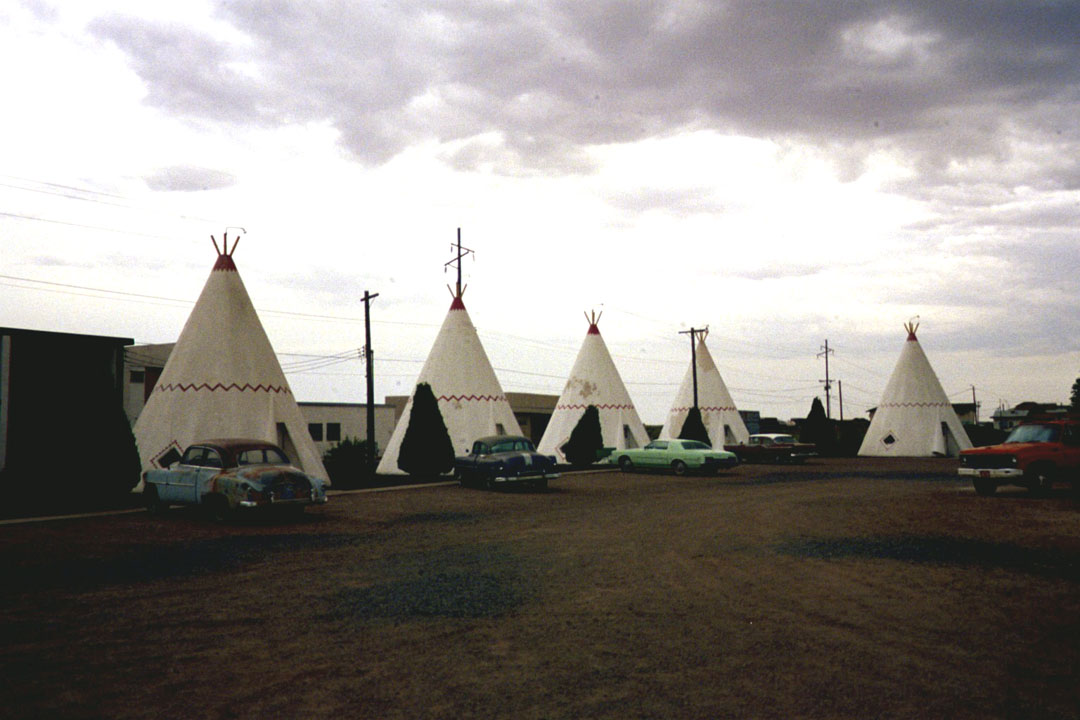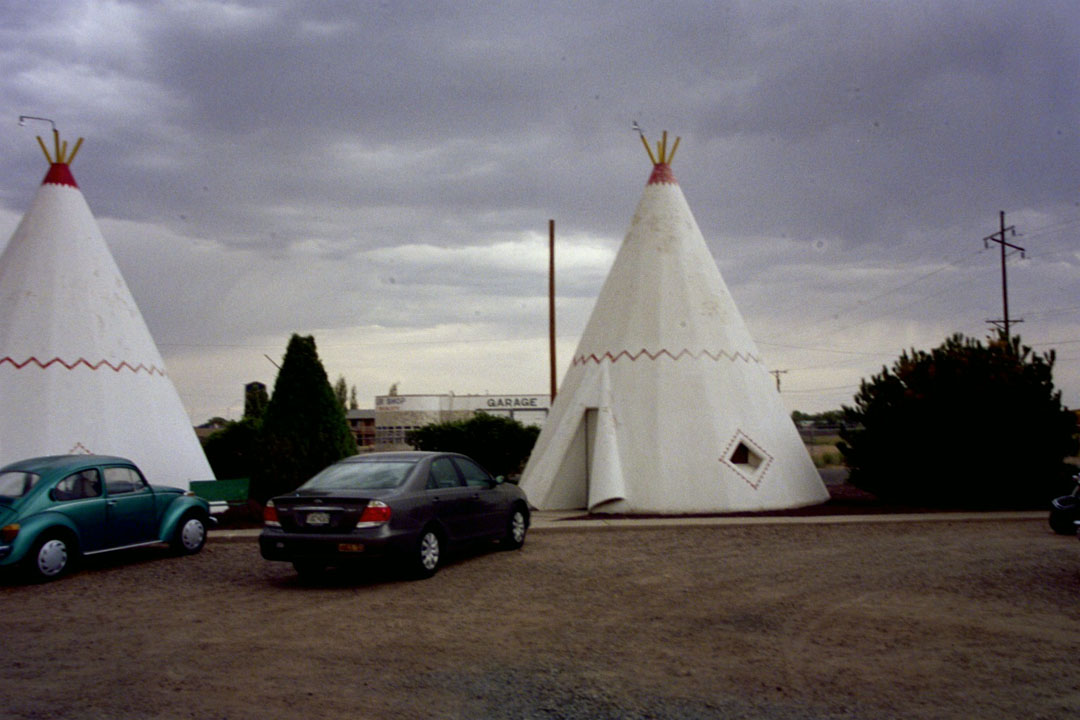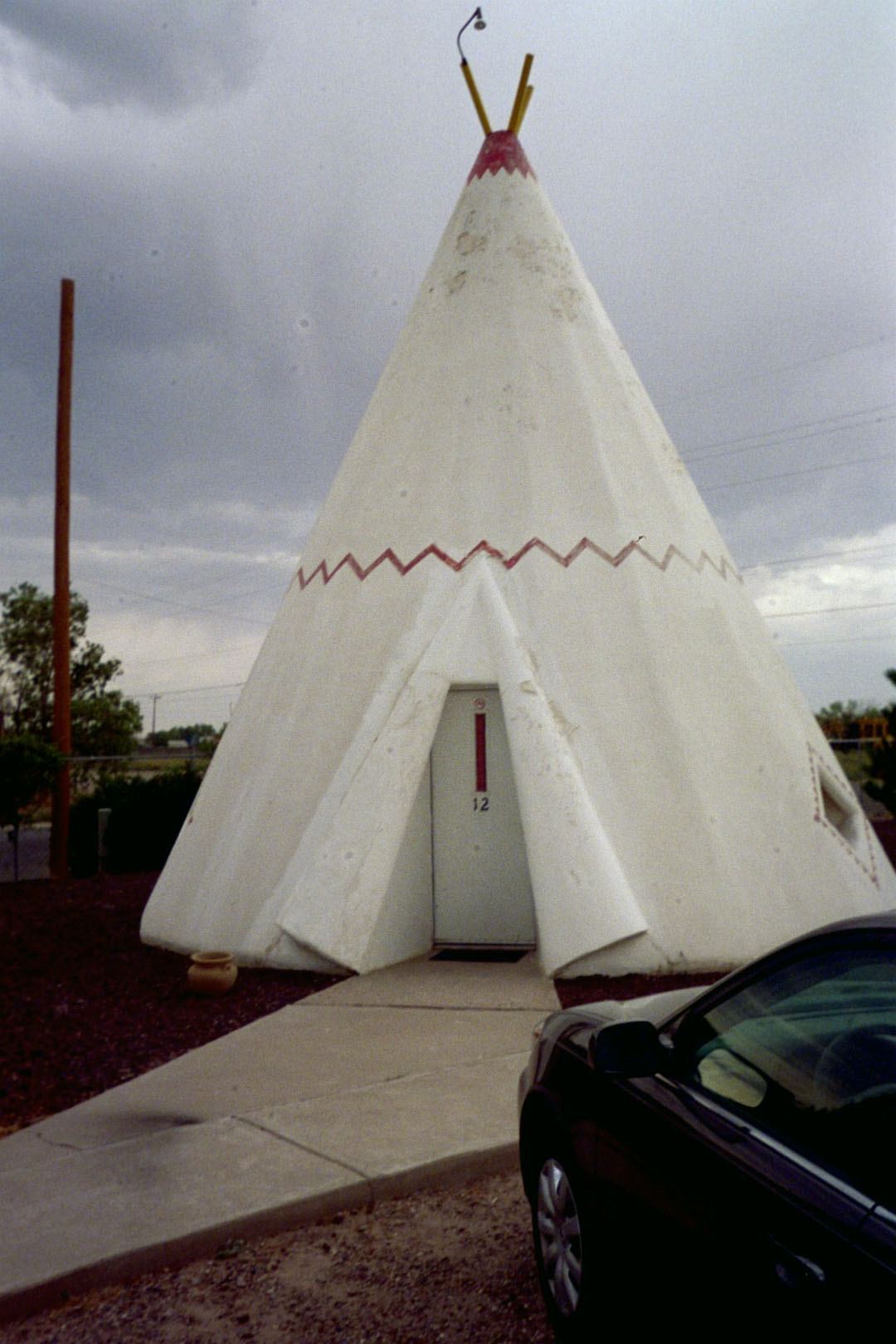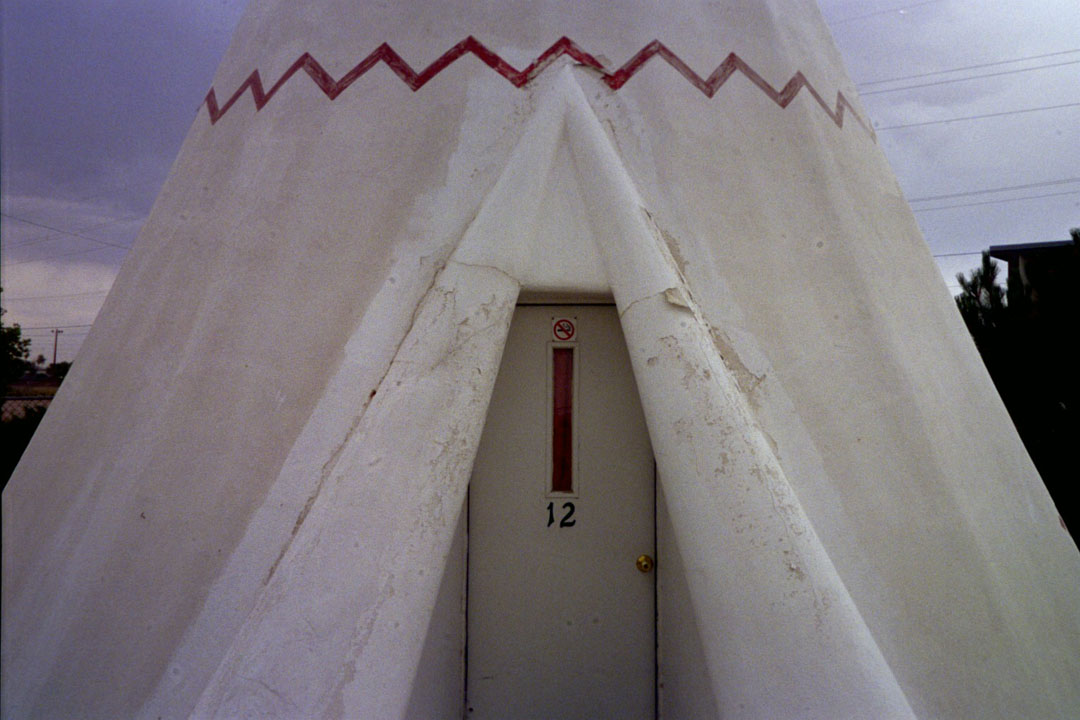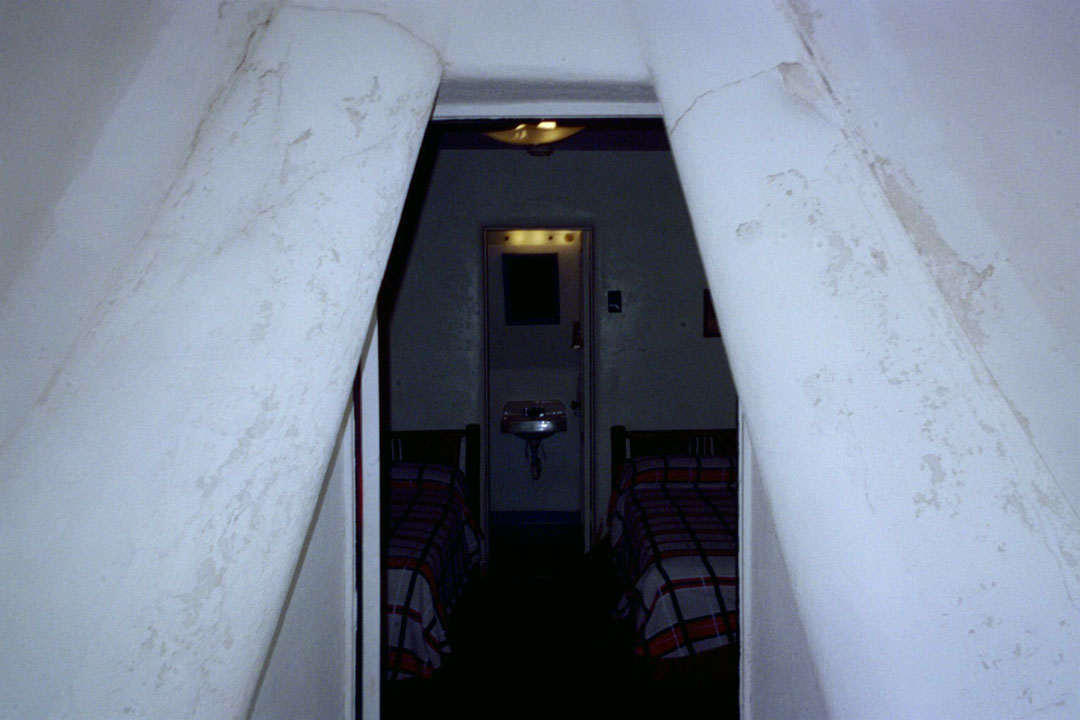 Anyways, I was starving so I walked down the road to The Butterfield Stage Company Steakhouse. I was the only one there at that time and I just wanted something really light to tide me over until dinner when I would be coming back for a steak. So I ordered mozzarella sticks. I don't recommend doing that. When in Arizona, don't order mozzarella sticks. I'll leave it at that.
I walked around town for a bit but there wasn't too much to see, so I went back and watched TV for while until I got hungry again, and then returned to the restaurant. I had a New York Strip steak, which was very good. Apparently, they don't get as testy about the New York Strip in Arizona as they do in Texas.
I finished the night by buying a couple cans of Bud at the gas station across the road and watching a Johnny Cash special on CMT.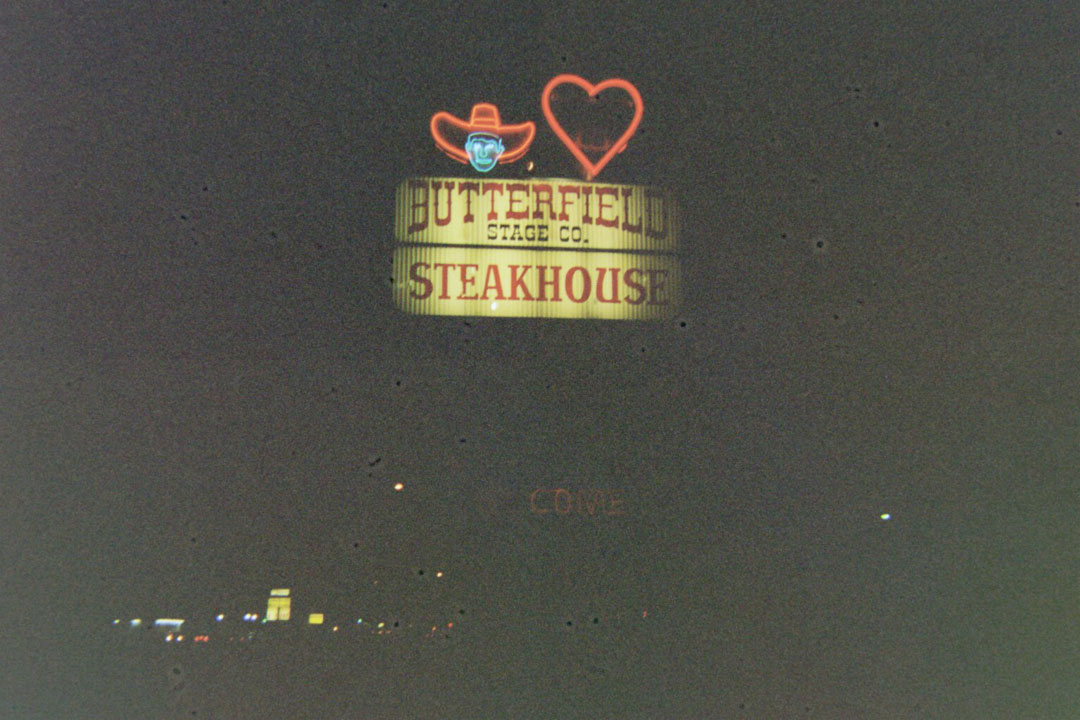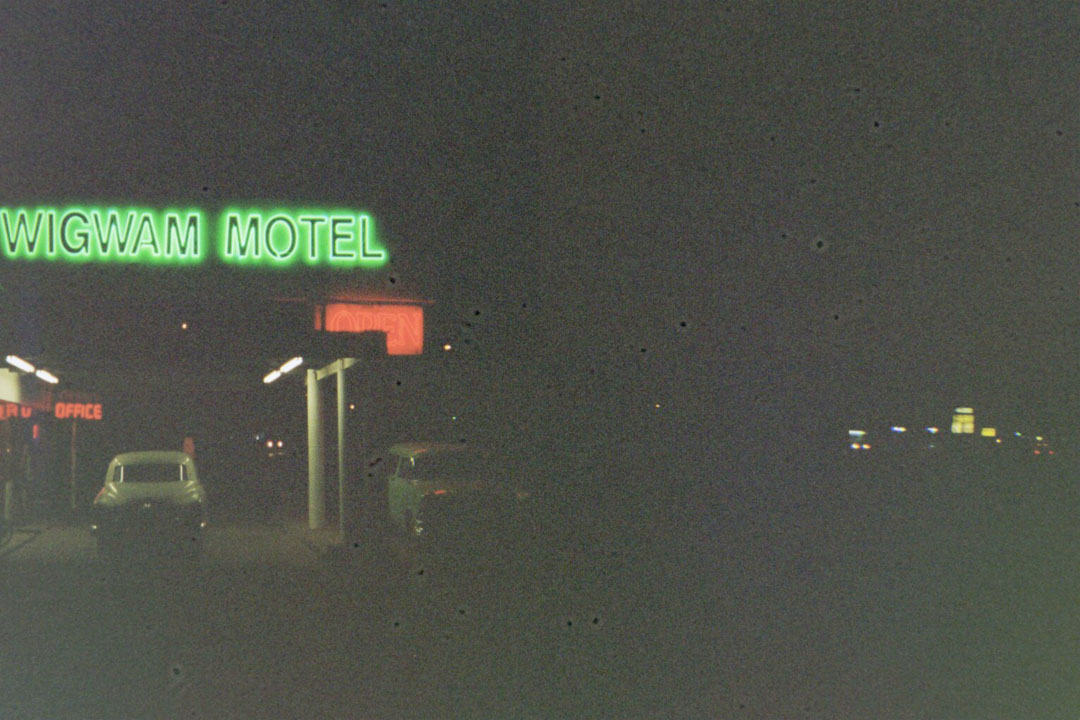 Day 12
I woke up in the wigwam early and put on the Germany-Argentina match. I'm not a big fan of Germany but I absolutely hate Argentina, so I was routing for Germany to win this one…plus they were the home team, so you got to go with them. Anyways, it was a close match but once it went to penalty kicks, it was all over; Germany never loses on penalty kicks. It is a simple, repetitive task done over and over again to perfection. Very German in nature. They'd probably be great at free throws if they played basketball.
It was going to be another short day to Flagstaff before the marathon day through the desert, so I stopped outside of Holbroke in Joseph City which is no longer a city. It has just one store, possibly the most famous store on all of Route 66; The Jack Rabbit Trading Post. On Route 66, there used to be big yellow signs with a black silhouette of a rabbit and the number of miles to go until Joseph City. There were no other words, but these signs lined the old route in both directions, all the way to L.A. in the West and Chicago in the East. It was incredibly popular with kids who would see the very simple, starkly-painted signs and conjure up all kinds of fantasies about what could possibly be at the very end. Now, it's only a store but back in the heyday of Route 66 there was also a rabbit petting zoo, and only one sign remains; the one outside the store that says, "Here It Is." I bought a few things and then got my picture taken next the giant porcelain Jack-Rabbit that guards the store.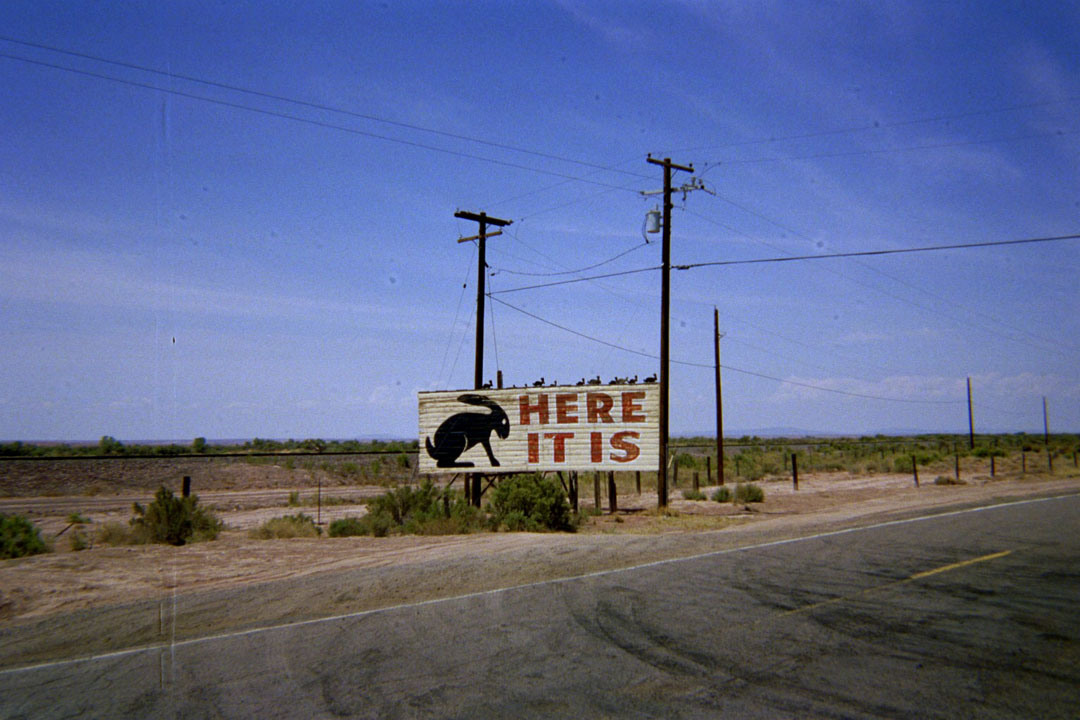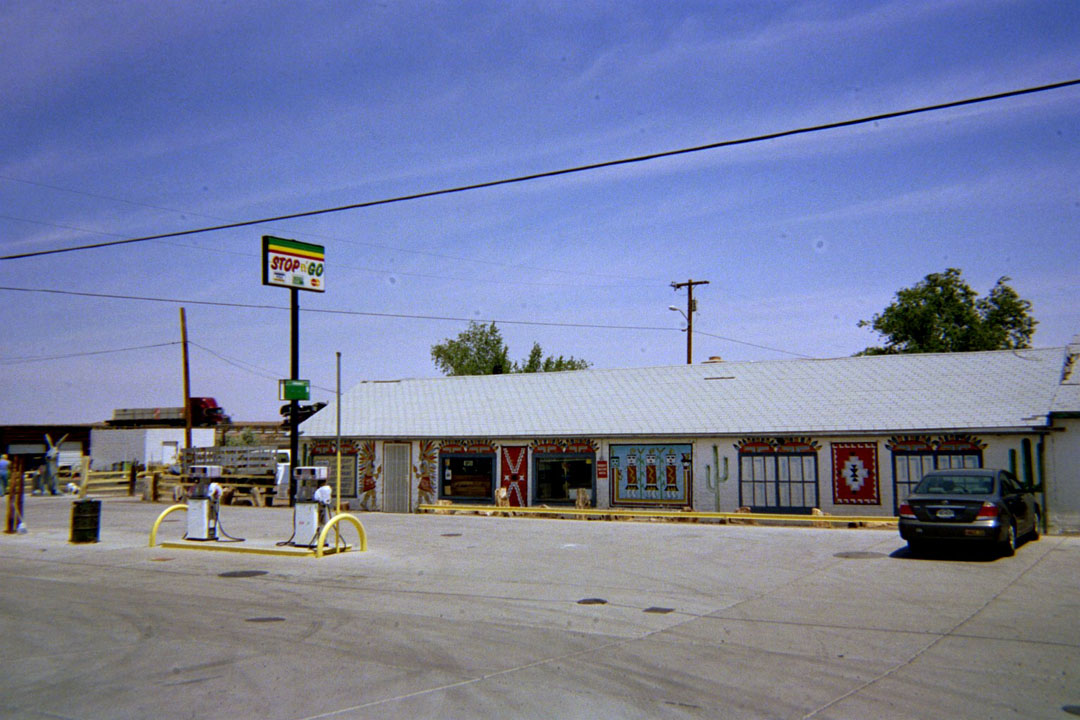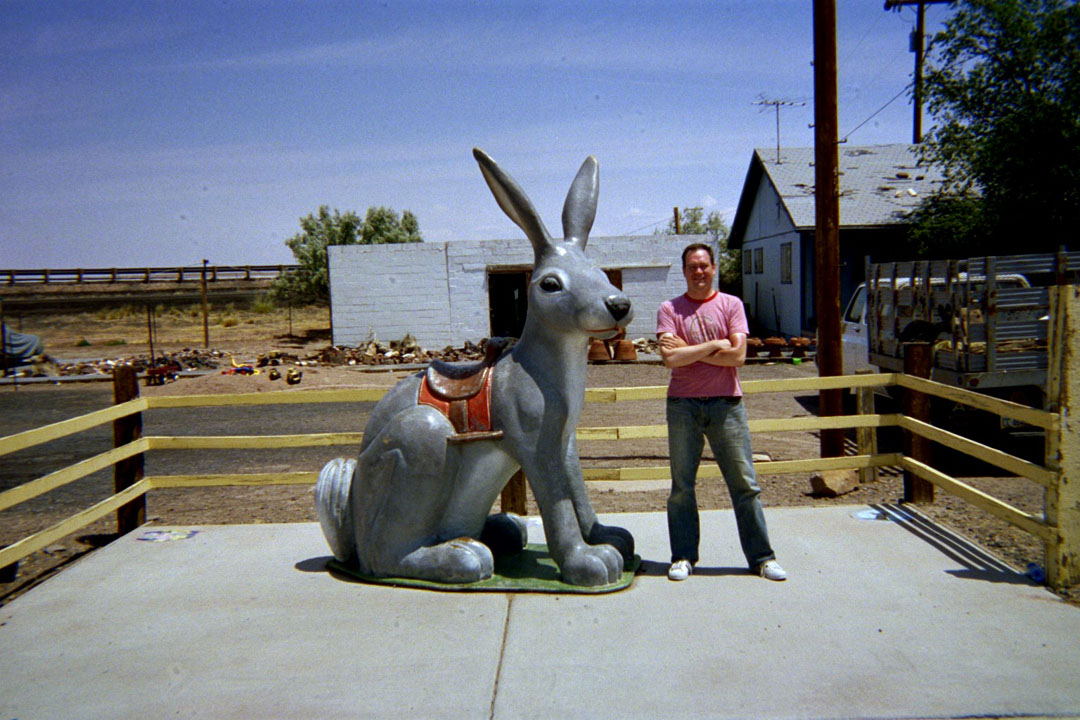 After Joseph City, I drove for about an hour and stopped in Winslow at the Falcon Family Restaurant.

Winslow had definitely seen better times and the people were pretty hard-core.

A guy actually brought his oxygen tank into the smoking section with him.

I ordered the beef tacos, which were mammoth, but pretty bland, so I poured some of the excellent salsa into them and that made it all better.

The salsa at the Falcon Family Restaurant has to be one of the best I've ever tasted.

I could've skipped the tacos and just had chips and salsa, and I would've been just fine.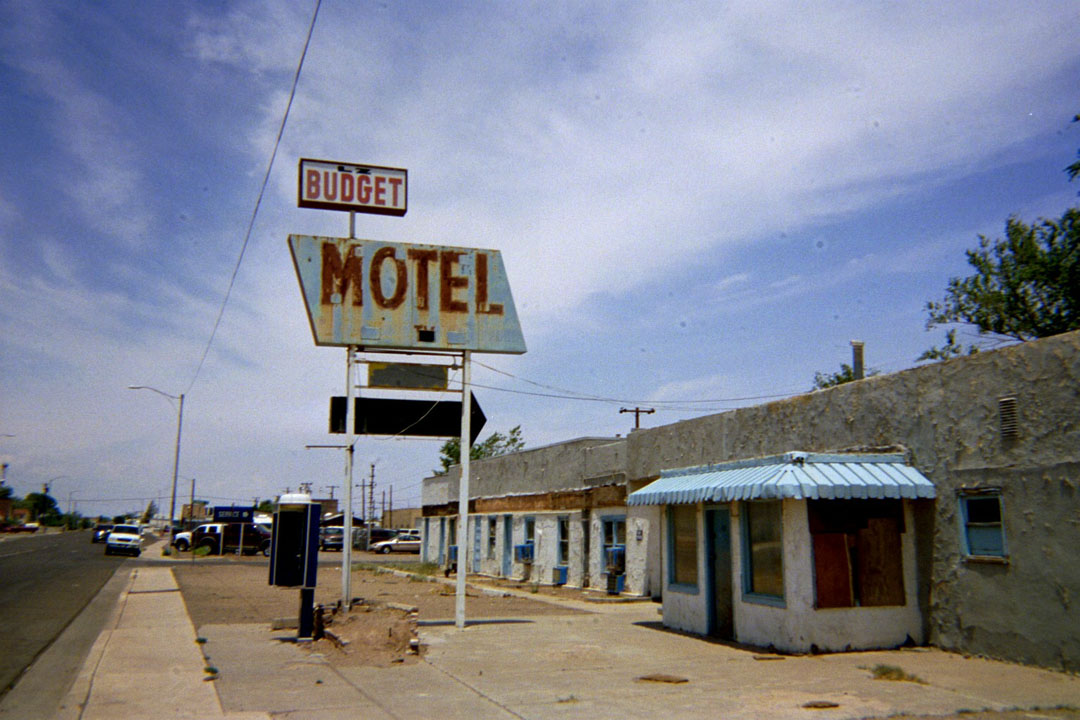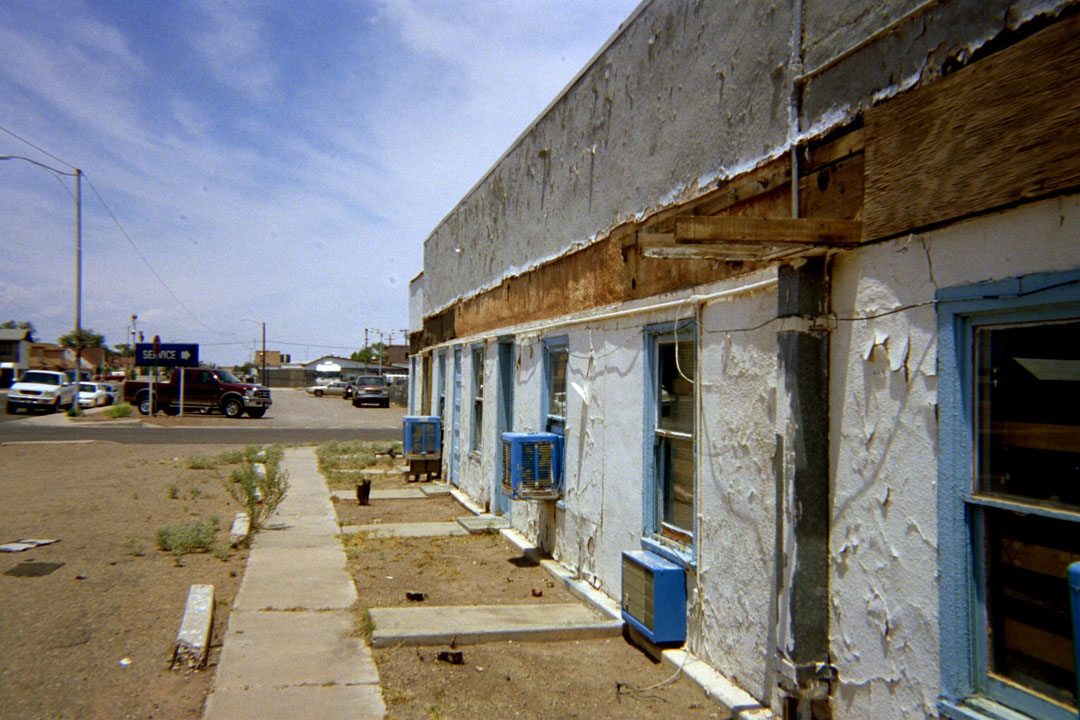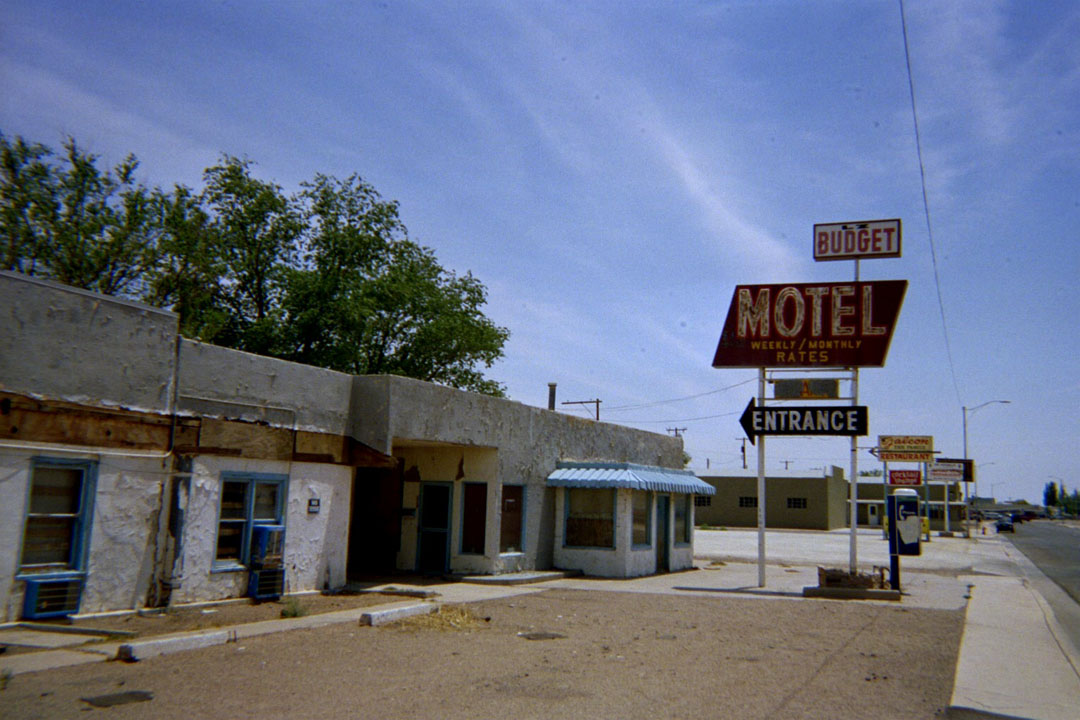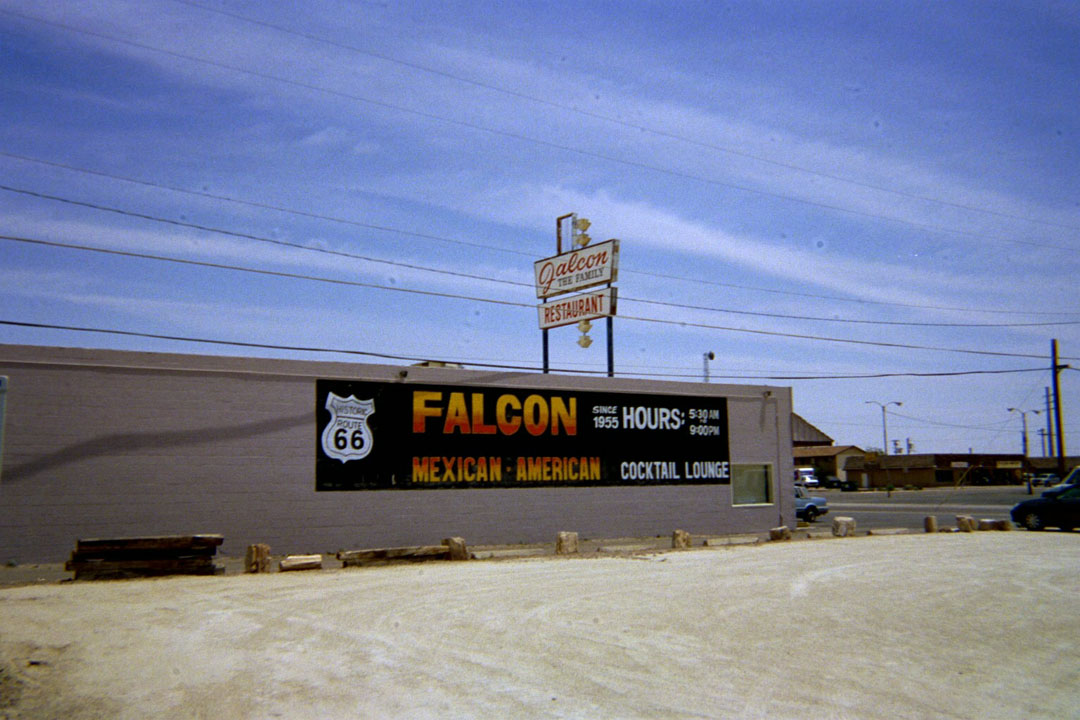 An hour or so later, and I began to drive up the mountains into Flagstaff.

It was amazing to see the landscape change from hot, dusty flatland desert to rolling hills with bushes and then to mountains with pine trees that cooled the temperature off considerably.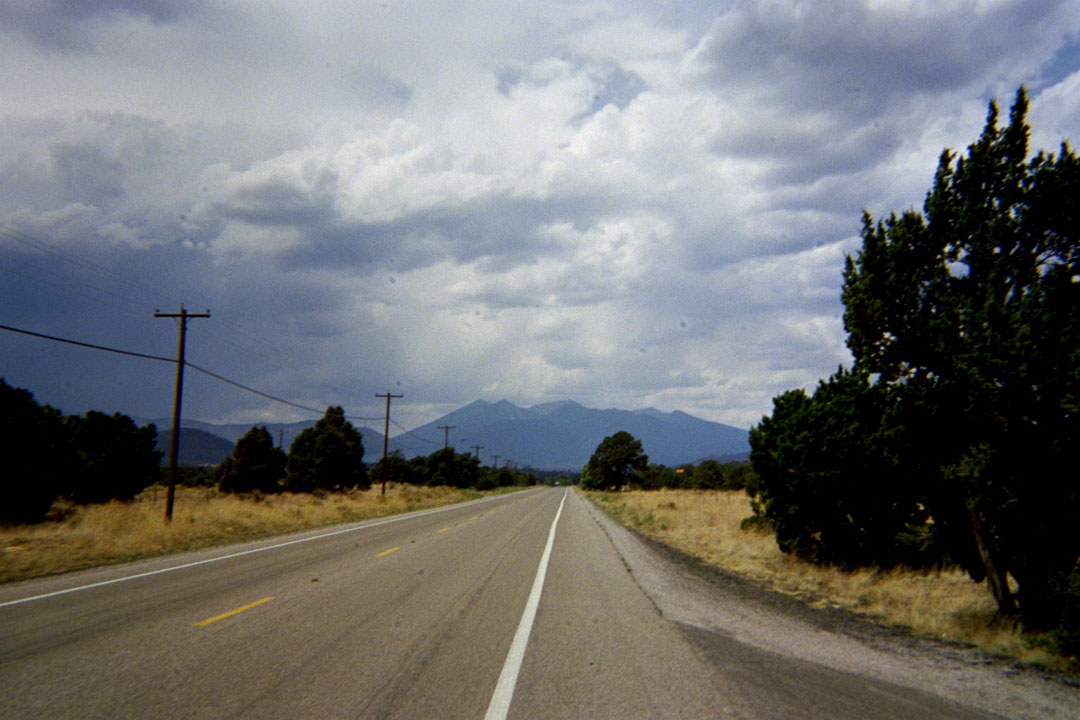 I wanted to find a hotel near a place called The Museum Club, which is on Old Route 66. It is the largest log cabin in the Southwest and used to be a museum with all kinds of animals that were stuffed and mounted throughout the cabin. After the owner died, the people who bought it turned it into a nightclub and changed the name from the Zoo Club to the Museum Club. It is famous in Flagstaff for the live country music and the fact that Willie Nelson used to play there. So as I pulled into the outskirts of the town, I was on the lookout for the giant guitar sign that is posted outside the club, and finally saw it next to a Howard Johnson. I quickly pulled into the parking lot and looked around for any other, more independent hotels but there was nothing else in sight except for a gas station, so Howard Johnson's it would have to be.
I dropped my things in the room and walked over to check out the Museum Club. I had a few beers with all the guys watching the horse racing in the afternoon, and man can those guys swear up a storm! I lived in Queens for almost ten years and I've never heard curse words used with such invention and creativity. I was almost getting embarrassed by the end of it. Some people occasionally drop the F-Bomb, but these guys were using it to carpet-bomb their conversation. It didn't help that there was Off-Track Betting at the front desk of the club. They would lose, swear, tear up their tickets, swear a few more times for good measure and then go and bet on the next horse. And then swear again. I left after a few beers and went back to my room for a nap.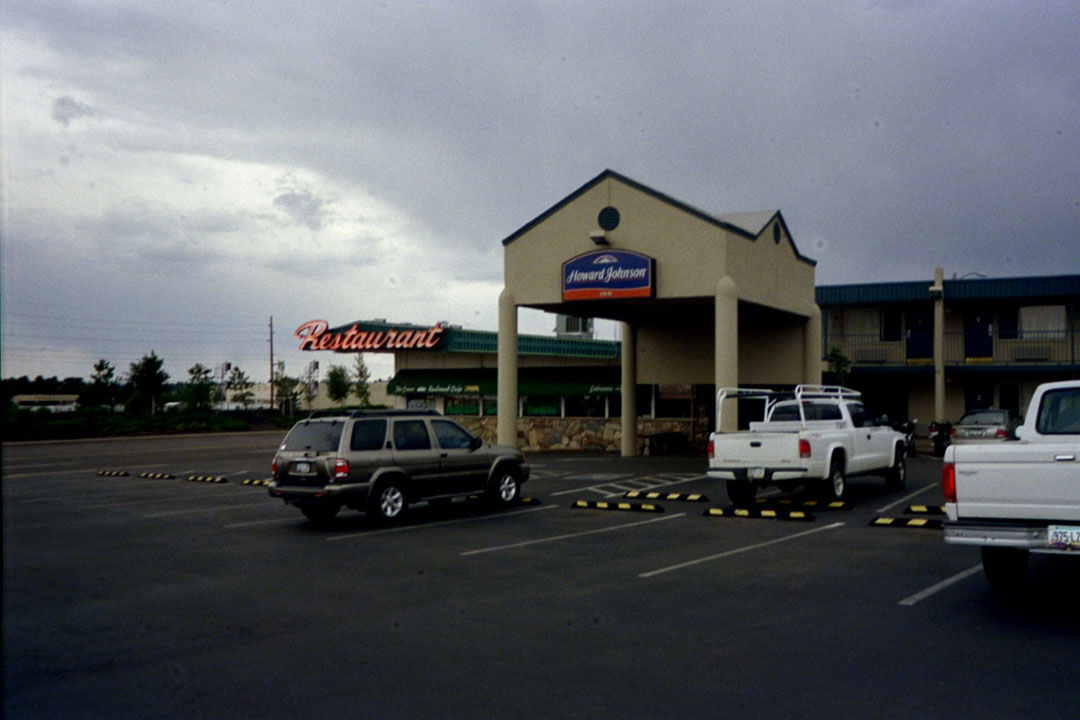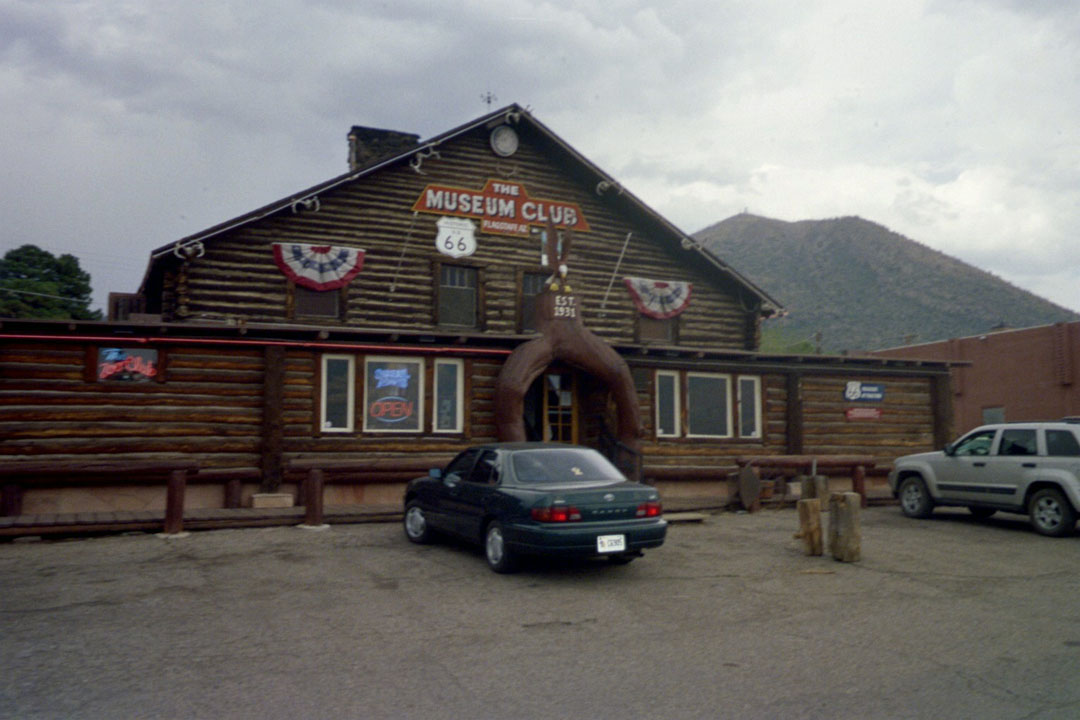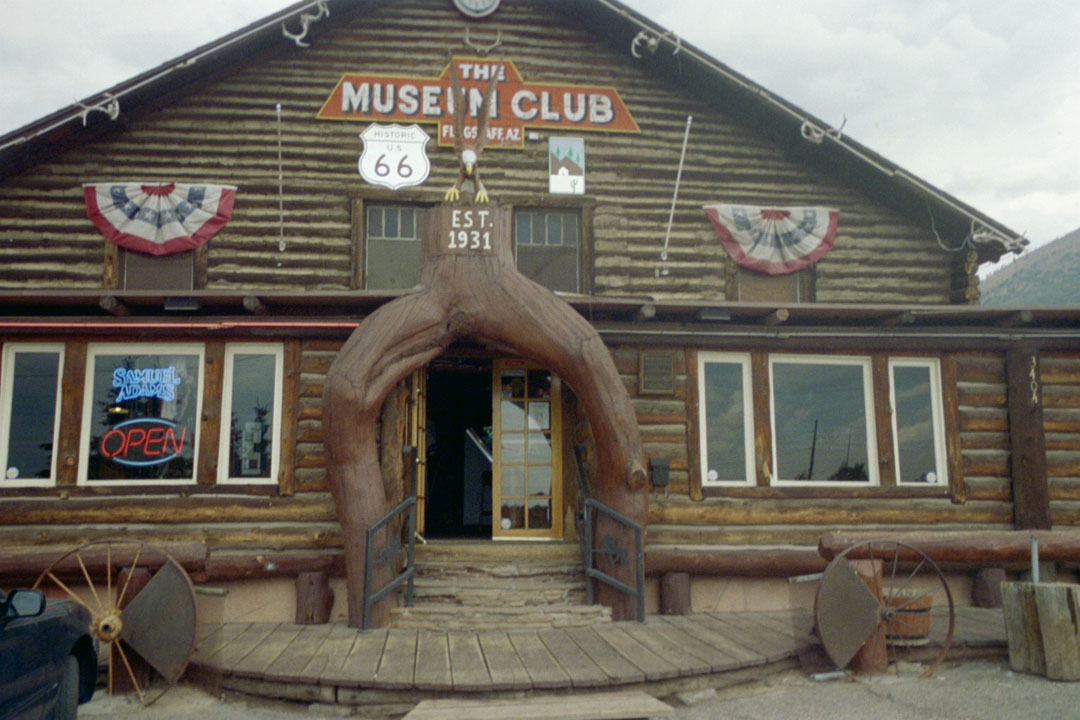 I woke up around seven and went to the Ho Jo's restaurant and got a green chili burger. It's a specialty in Arizona and New Mexico which I hadn't had a chance to try yet, but it's really just a burger with a couple of green chilies on top, nothing special.
Then I went to the Museum Club and had a few beers. My waitress, Tara, kept sitting down next to me and asking when I was going to do shots, so not wanting to anger the locals, I had a couple of Jager Bombs. After a couple of those, she invited me out to drink with her friends on the back porch where you could smoke, which was cool. They were mostly from outside Flagstaff and described themselves as rednecks, but with some of the people I'd seen so far on the trip, they were a long way off. The guy that brought the oxygen tank into the smoking section in Winslow…now that's a redneck.
Anyways, I drank and hung out with them until closing time and then went back to Ho Jo's to sleep.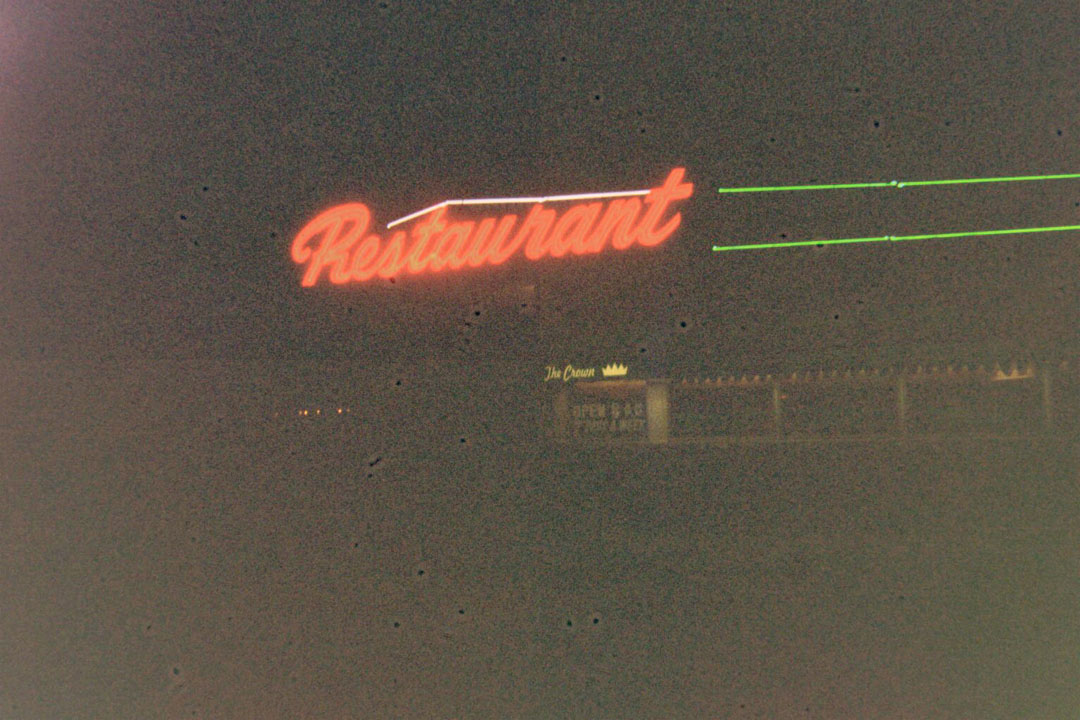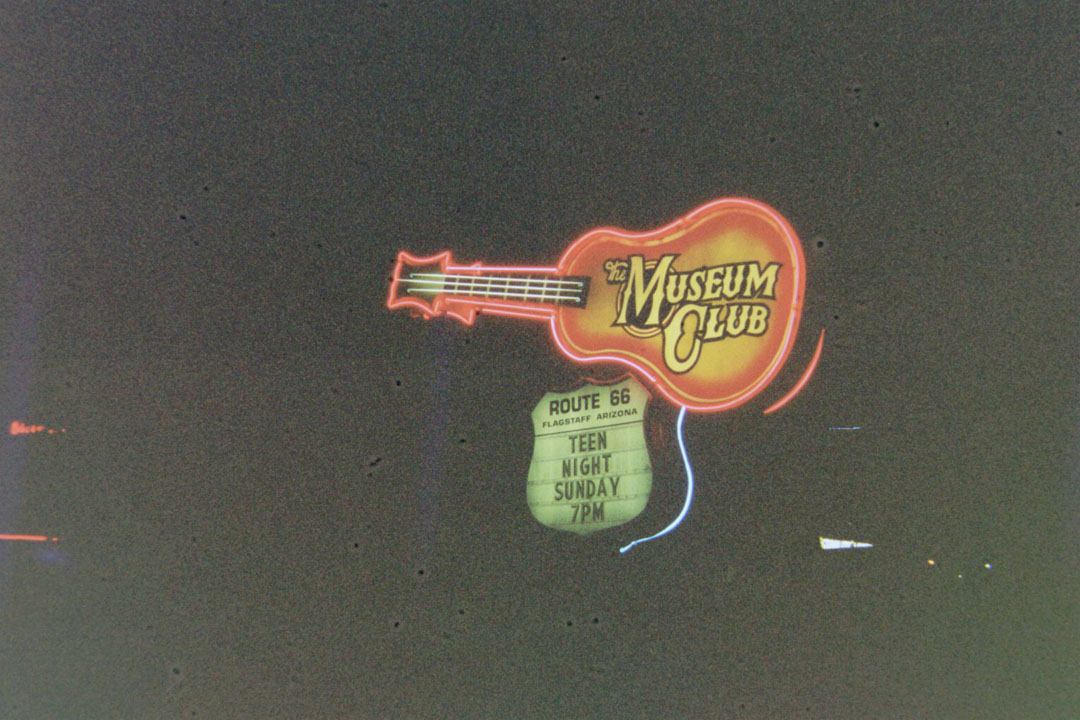 Day 13
I got up a little hung over and turned on the TV to watch the England-Portugal Quarter-final. It was going to be a long day through the desert so I hoped that England could win in regulation time, but as in most English matches, it was slow, boring and had little scoring chances. Rooney got a red card and Beckham left the game injured. It was tied 0-0 after regulation and then still tied after overtime, so it would go to penalty kicks which would normally favour England, but they missed three in a row and the rising young star of Portugal (who's also a tremendous cry-baby) Christiano Ronaldo scored the final penalty kick to defeat England. So I had stayed in my hotel room for more than three hours watching the English squad get defeated, essentially by itself, and here it was almost noon and I was still in Flagstaff. I knew it was going to be about ten hours to Barstow and now I would be driving through the desert at the hottest time of the day. I cursed England and stuffed my Rooney t-shirt into the farthest, darkest hole I could find in the trunk of my car.
I drove down the scenic mountain range, through the pines trees and into the desert flatlands again. I stopped at about 2pm in Seligman at The Roadkill 66 Roadhouse Café. I was hoping to catch a little bit of the Brazil-France match but there were a couple of old-timers at the bar very attentively watching billiards. And when the walls of a bar are covered with the heads of dead animals, it's usually best not to ask about a French soccer match. I ordered Muck-a-Duck Smushed By a Truck, or chicken flautas as they're normally called, which were incredibly dry, with guacamole that was a shade of dark green bordering on brown. So I choked down as much as I could and left the Roadhouse to go to that other Seligman establishment, The Snow-Cap Drive-Inn.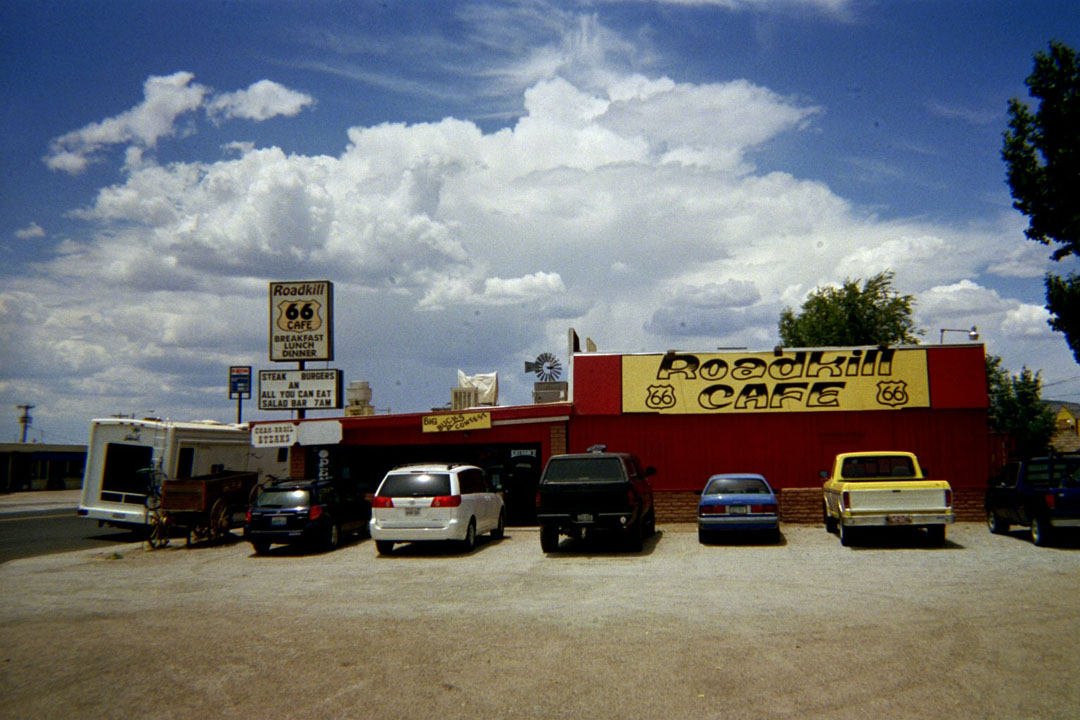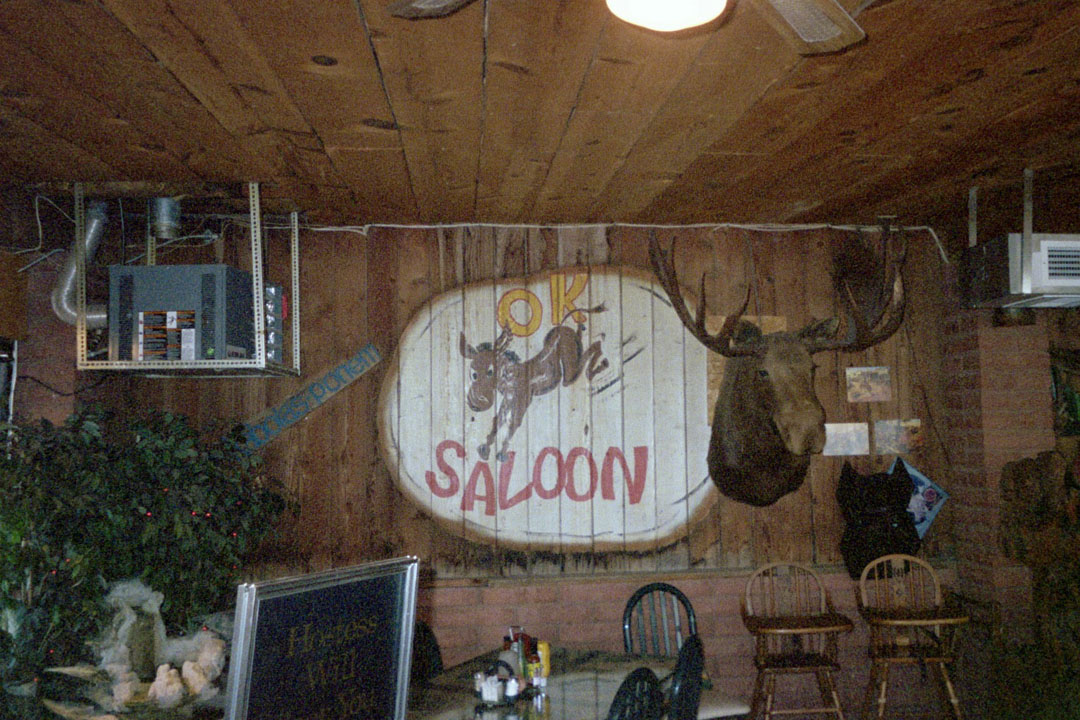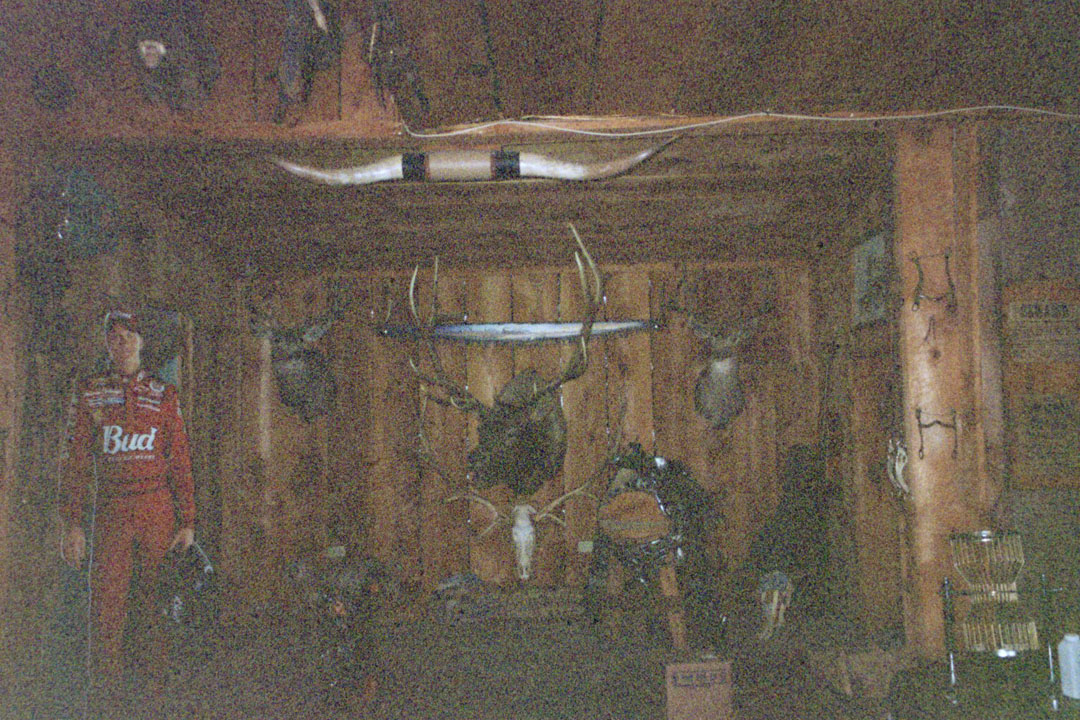 The Snow Cap Drive-In is owned by Juan and Angel Delgadillo. They were the first business owners in the 80's that realized the potential for the nostalgia of Route 66, and became the founding members of the Route 66 Renovation Commission. Their business is an old-time drive-inn restaurant specializing in snow cones, ice cream, burgers and something called dead chicken. After the Muck-a-Duck Smushed By a Truck, I was in no hurry to find out about the dead chicken, so I just ordered a strawberry snow cone, which was good and only cost a buck. From there, it was into the desert and the growing heat.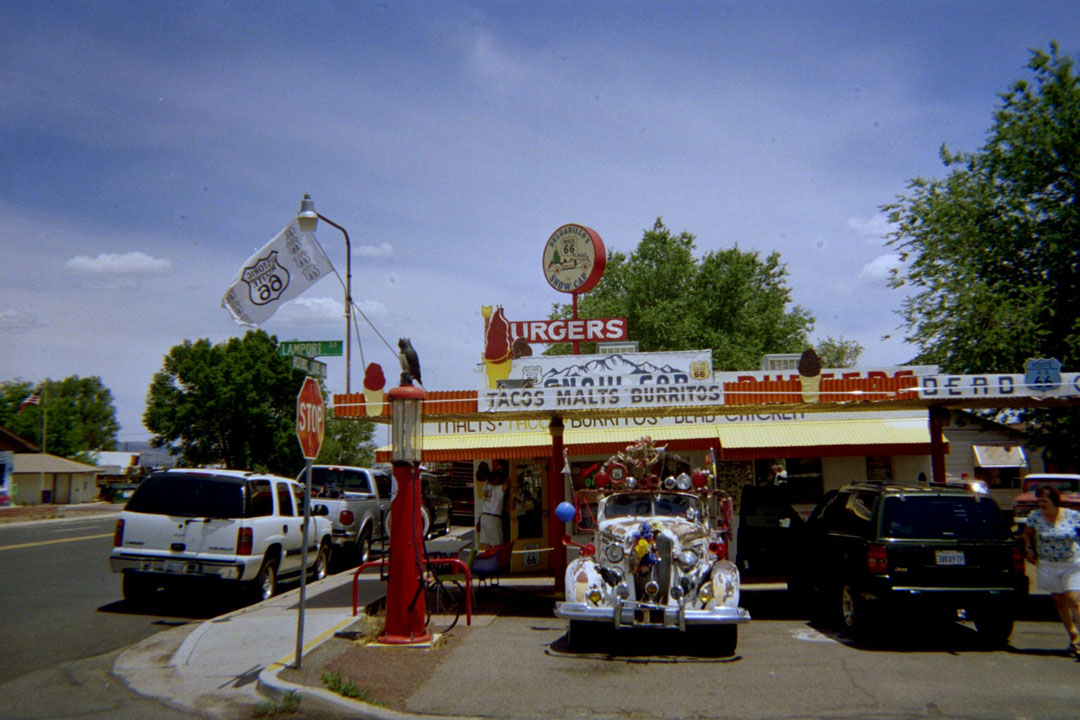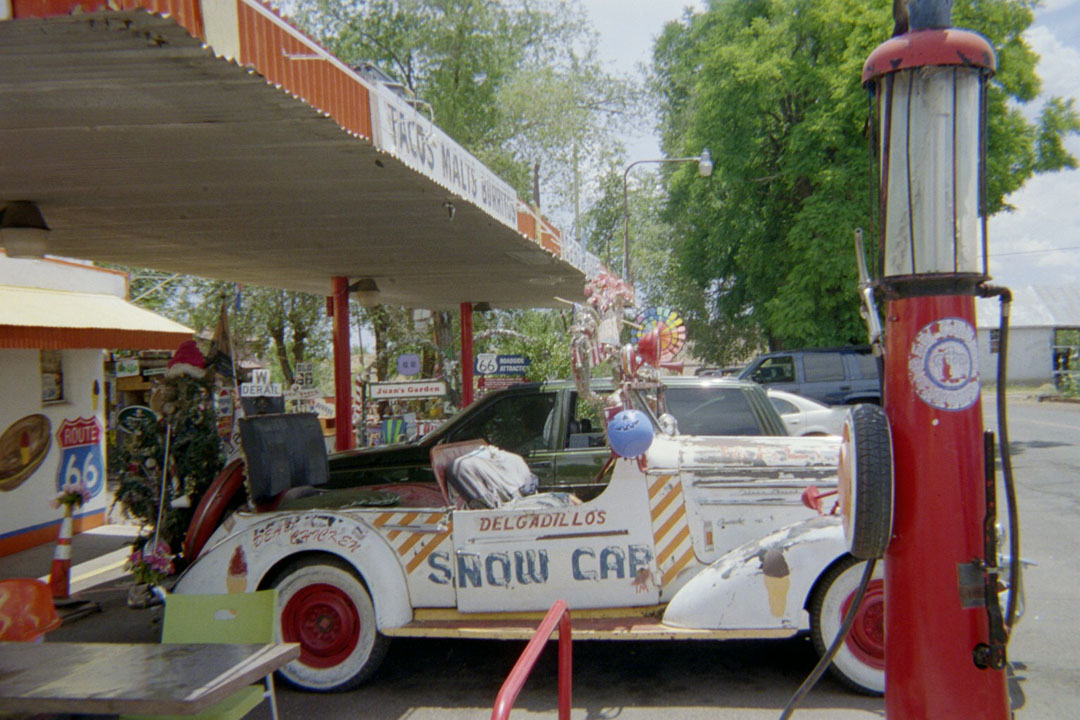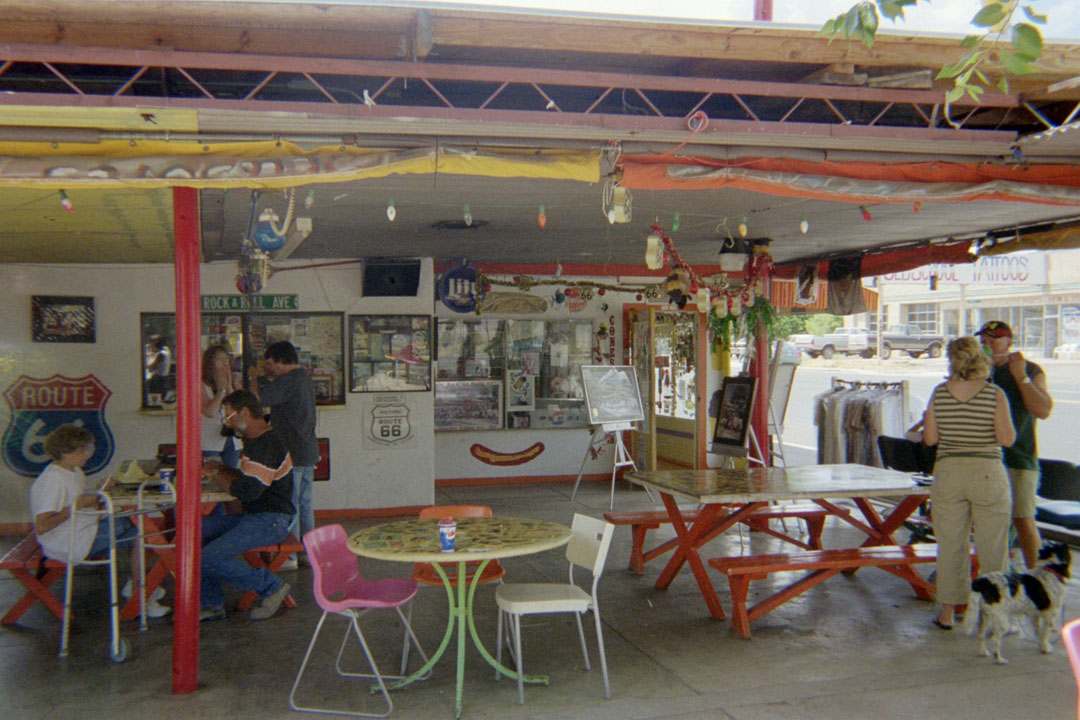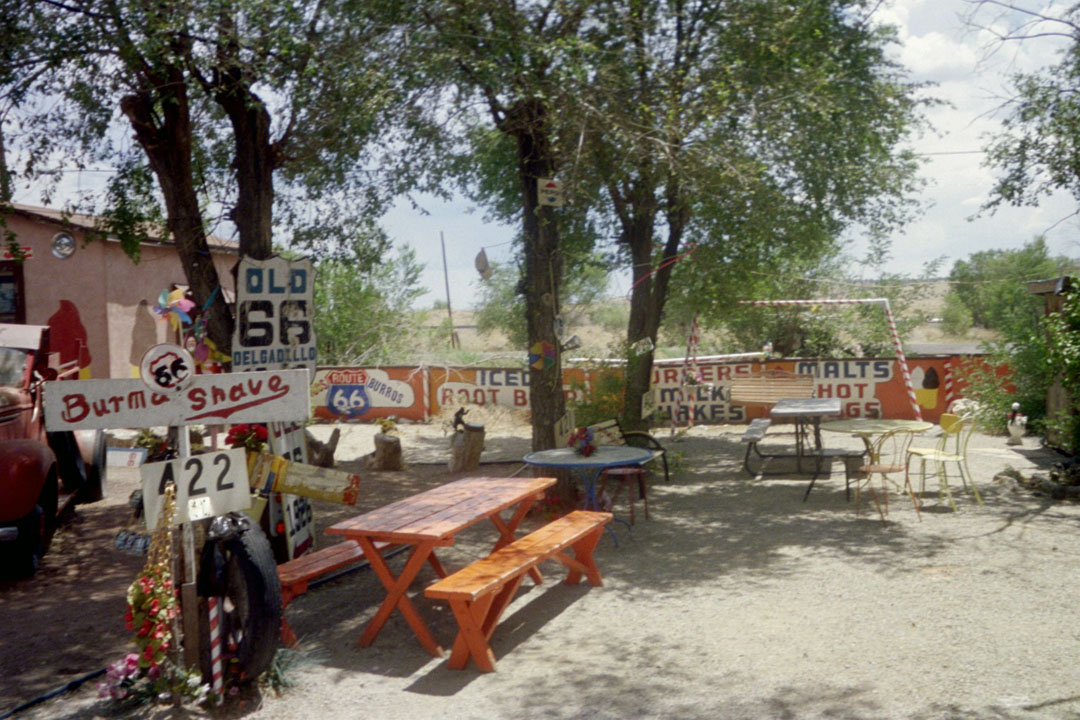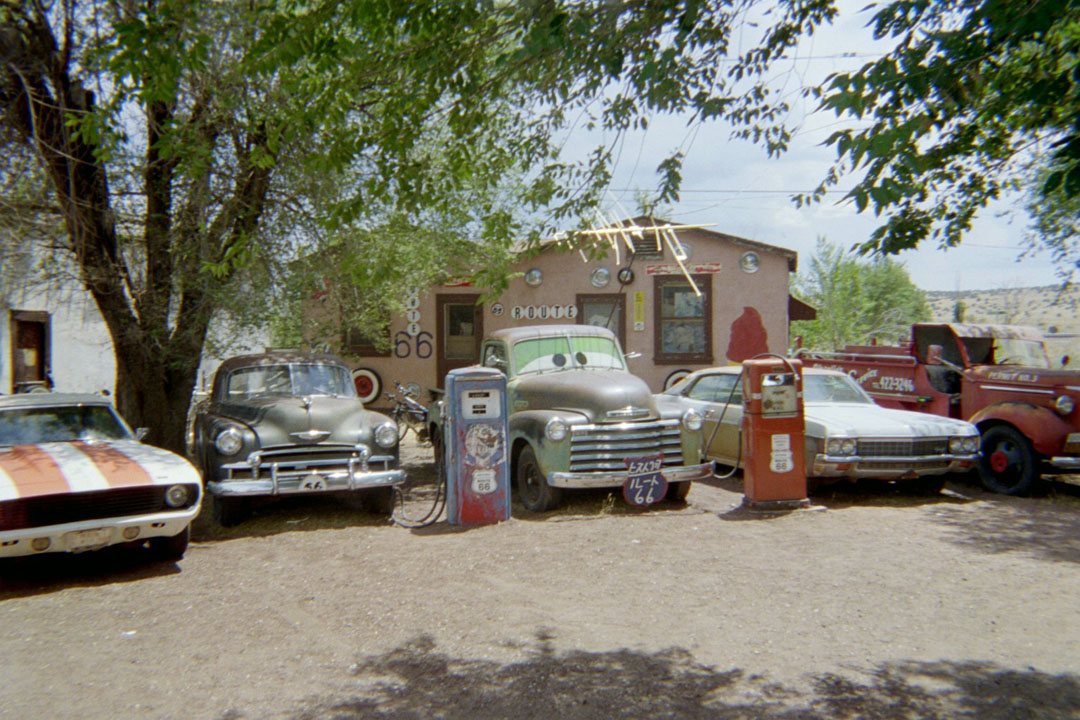 I had to skip going to the Grand Canyon which would have added about three hours of driving time alone, so I drove past the turn-off and through Peach Springs, Hackberry (and the famous Hackberry General Store) and Kingman into Cool Springs, which like so many Route 66 "towns" now consists of a single store.

It's a vintage gas station made entirely of stones and it is the last gas station on the eastern side of the Black Mountains.

I hopped out and got a couple bottles of waters and a stuffed animal burro for my niece.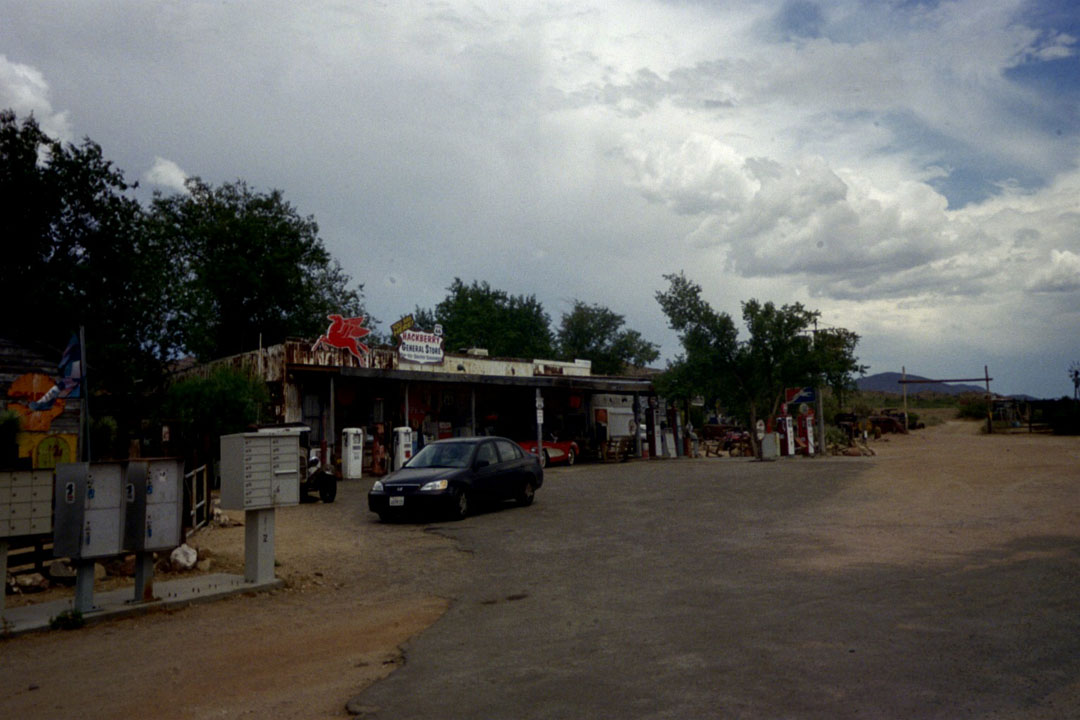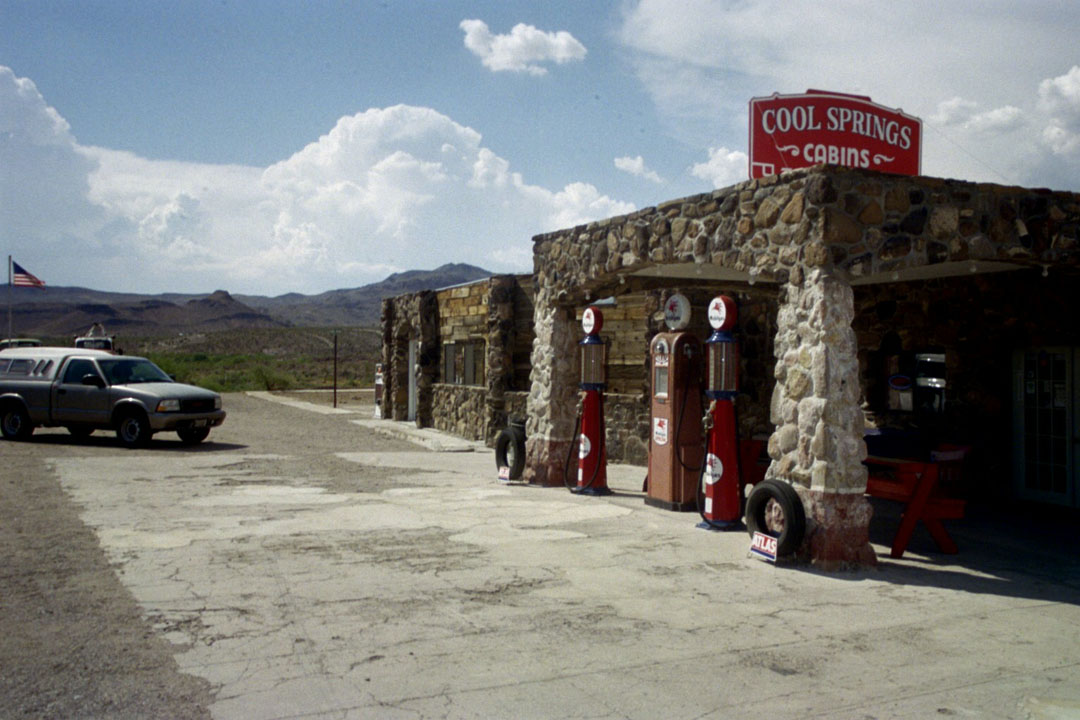 I pulled away from the Cool Springs General Store and made my way into the mountains, almost immediately thinking, "What the hell have I done?"

The road was extremely narrow with no shoulders and clung to the sides of the mountain.

And since I was going West, I was on the cliff side of the road.

For a guy that gets extreme vertigo, this was not going to be pleasant.

Luckily, there were no other cars in sight, so I could go slow, which I did, at about ten miles per hour.

I got a good shot of a burro that was hanging out by the side of the road, chilling in that donkey sort of way, but I didn't get out of the car.

The turns were too sharp and the slope too steep that I was afraid someone would come up behind me at any minute.

I only passed six cars before I reached Oatman, plus a Winnebago, but luckily that was close to a place that had a small shoulder I could pull off onto to.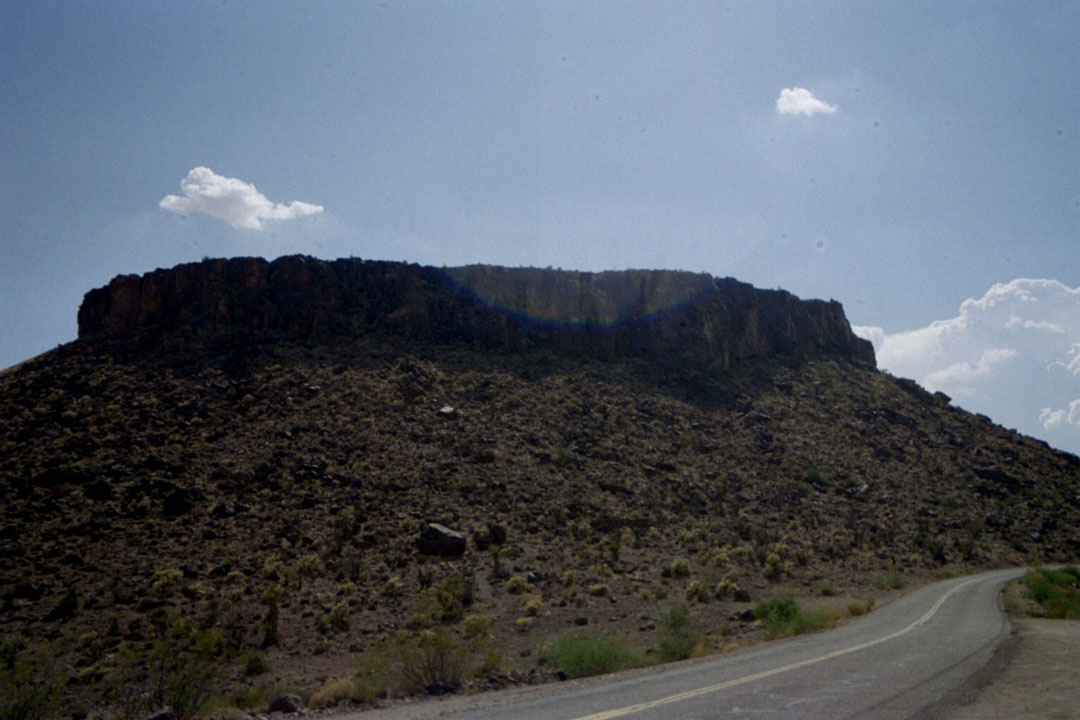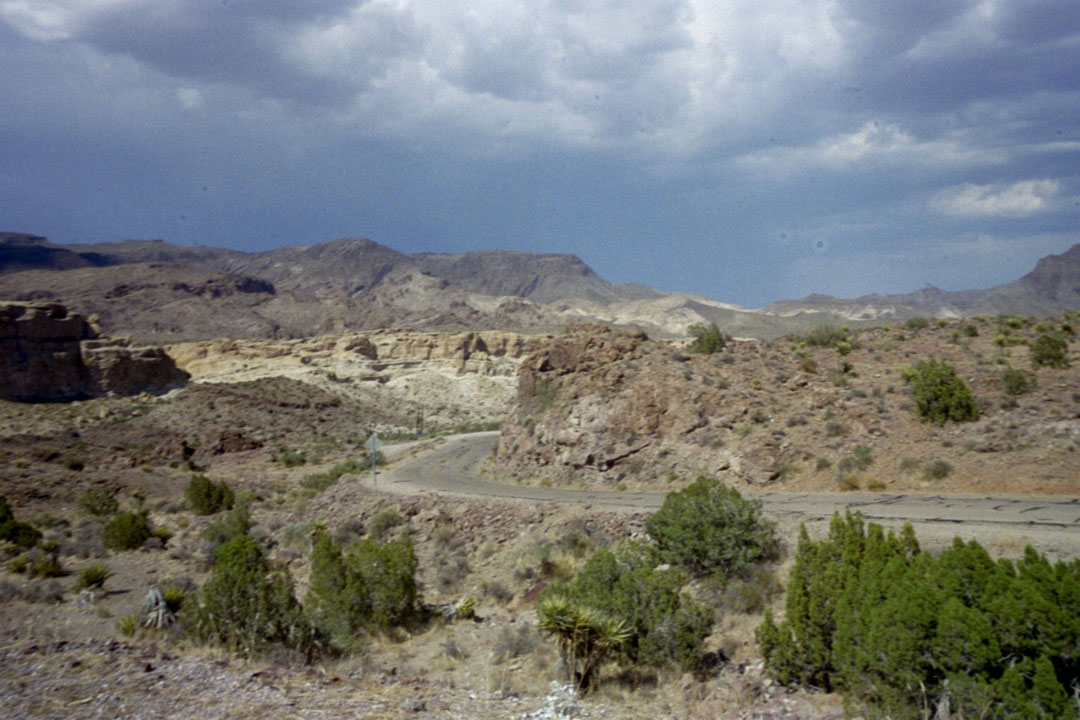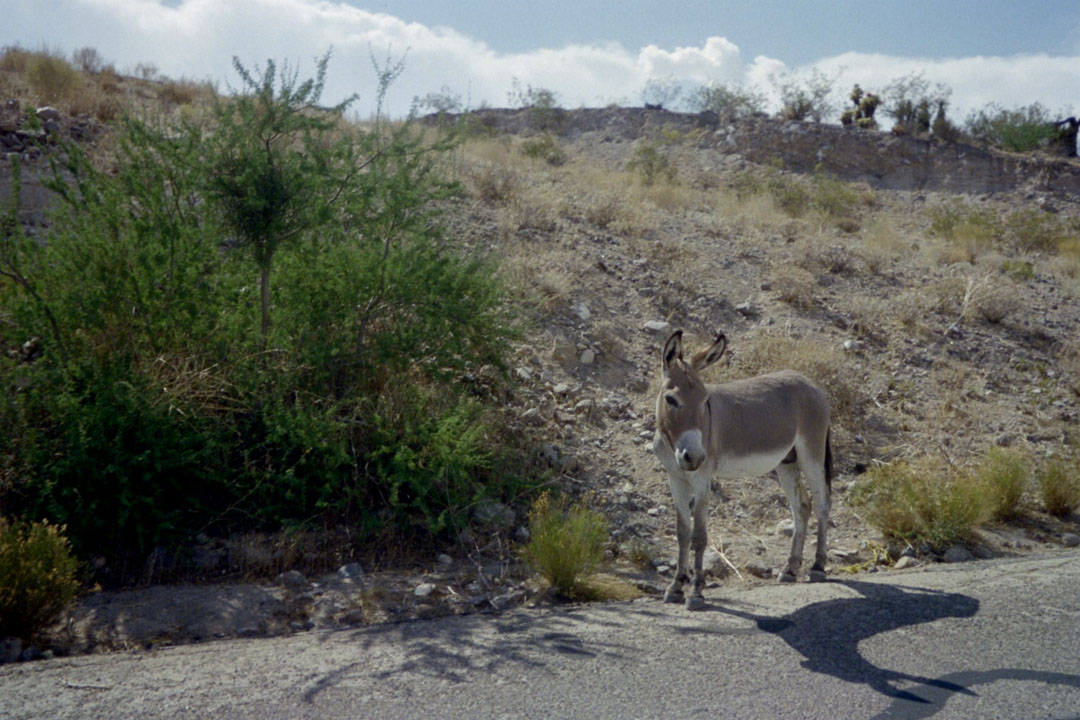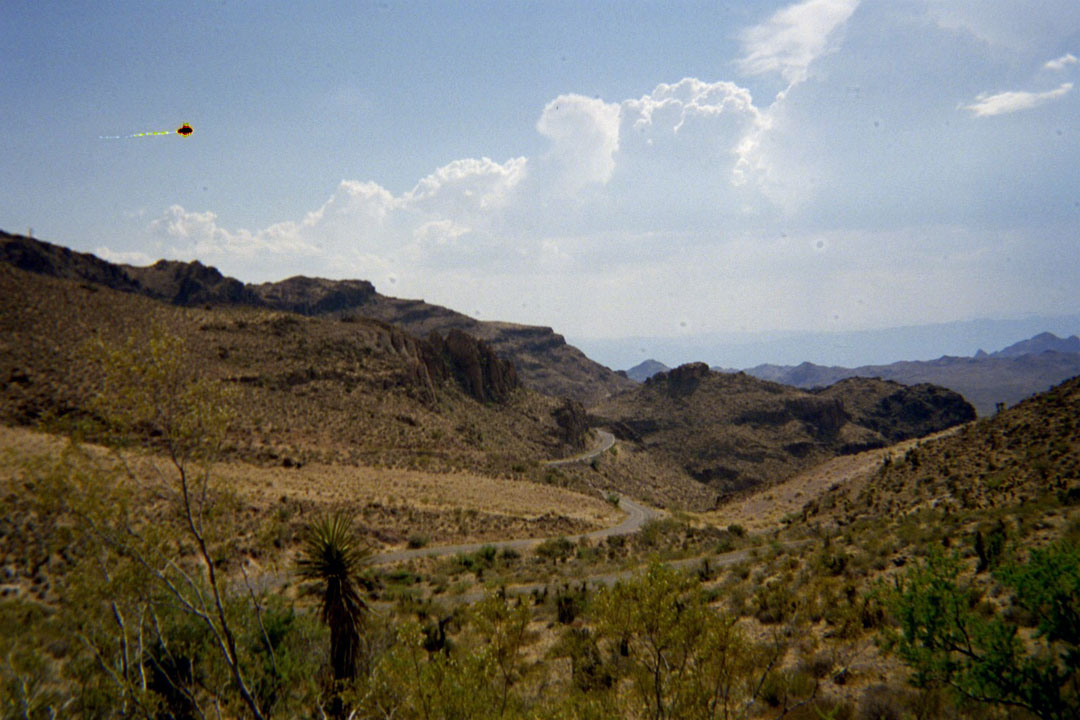 Oatman was once a thriving mining community in the midst of the Black Mountains of Arizona that has now converted completely to tourism, and they've tried to recreate the old western-type atmosphere.

There are burros that roam the streets at will and the smell is powerful.

I stopped in the Oatman General Store to get some more water and cameras, and then decided to leave before I passed out from the stench of burro shit.

Pulling away from Oatman, the land flattened out and the mountains could no longer give any temporary shade.

Going down into the valley, the temperature in the car topped out at 116 degrees, but I still did not succumb to the temptation to put the A/C on.

If the Oakies could do it in the 30's with broken down trucks and no water, I could make it through the desert with a couple of bottles and the sleek, precision power of the Old Gray Bastard.

I stopped to take a picture and noticed two white crosses across the road, meant to mark the place where people had been killed.

I passed by more than a few of these when I was driving through the Black Mountains before Oatman, but suffice it to say, I did not stop and take pictures there.