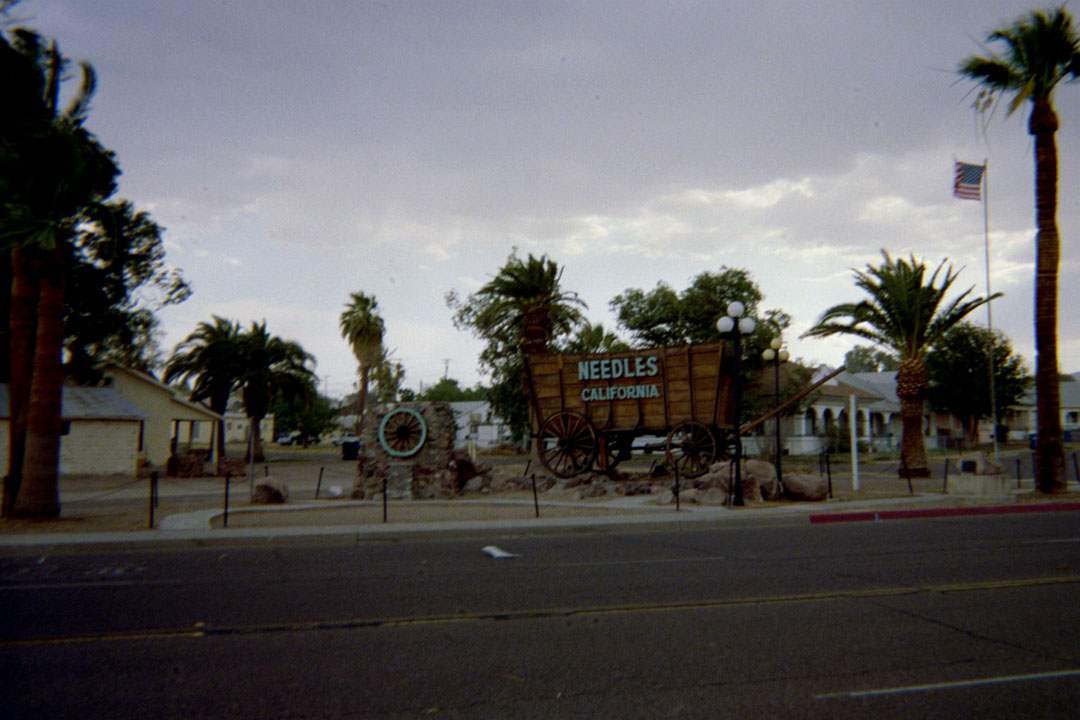 This was the loneliest strip of Route 66; barely any cars, barely any signs of life at all.

Driving into Amboy the sign said, "Welcome to Amboy, CA; population 1,898."

I don't know when that sign went up but it looked like the population had decreased some over the years; by about 1,898.

It was a complete ghost town, with a hotel and a diner/gas station from the 50's that were totally abandoned.

I didn't pass or even see any cars and I got out and looked around at the old diner called The Roadrunner Café.

Absolute desolation.

Getting out of the car was spooky as there was no sound but the wind.

I took a picture and drove quickly out of Amboy.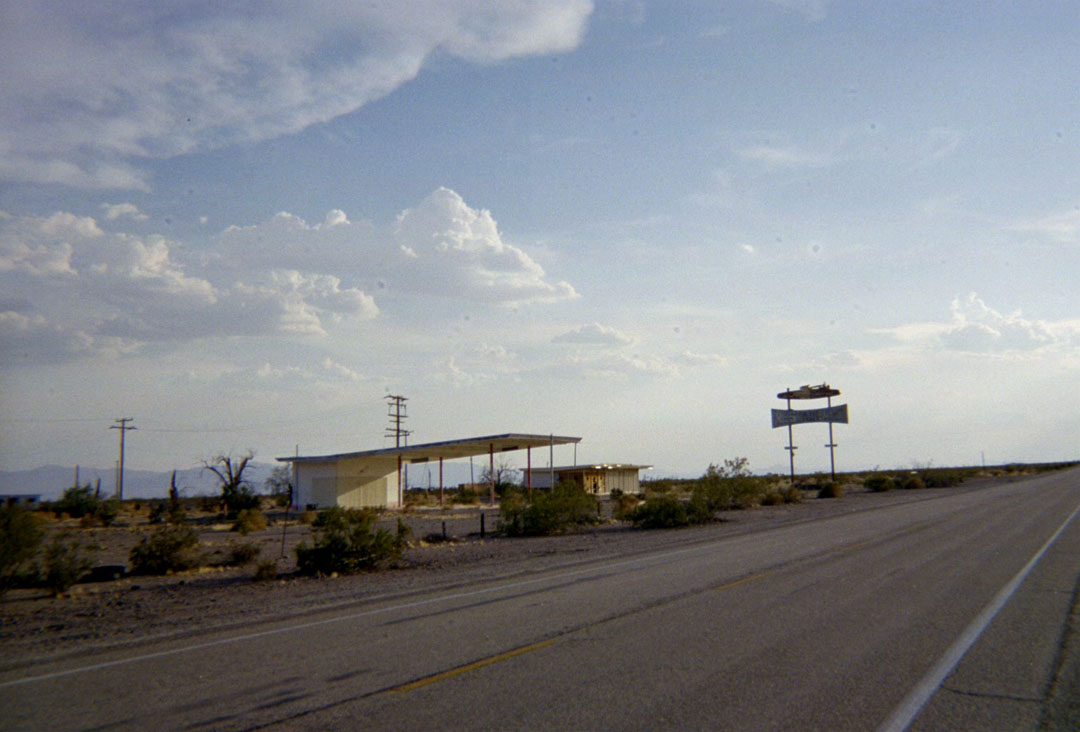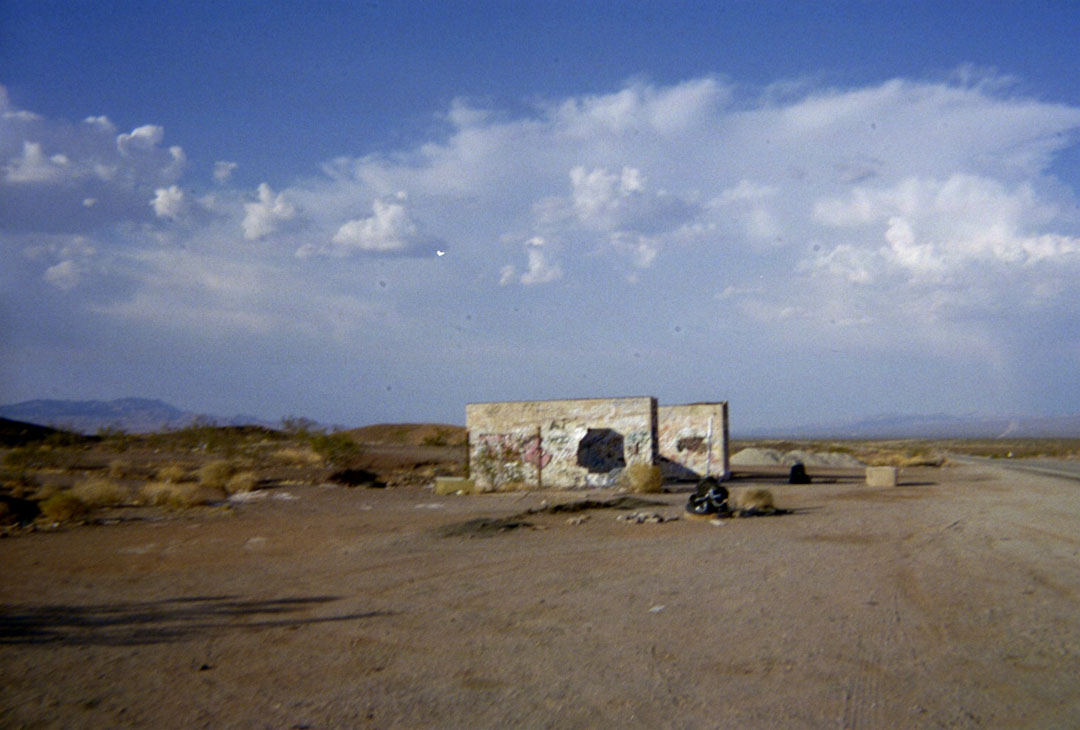 For the next two hours, Route 66 mainly clung next to a set of railroad tracks that the occasional freight would pass by on, but I could no longer see the interstate.

Every town was abandoned, judging by the 70's-era cars left in the dust.

The only time I saw a few more recent cars, those pieces of property invariably had "No Trespassing" and "Keep Out" signs, but even they were few.

Everything was few on this part of the Mother Road.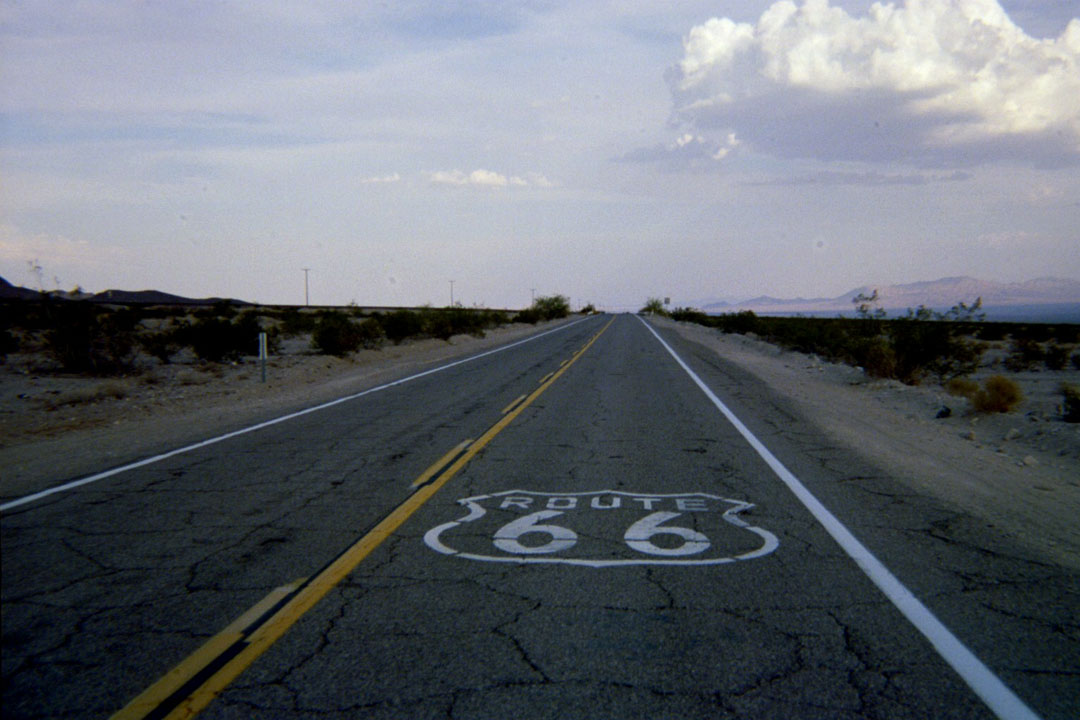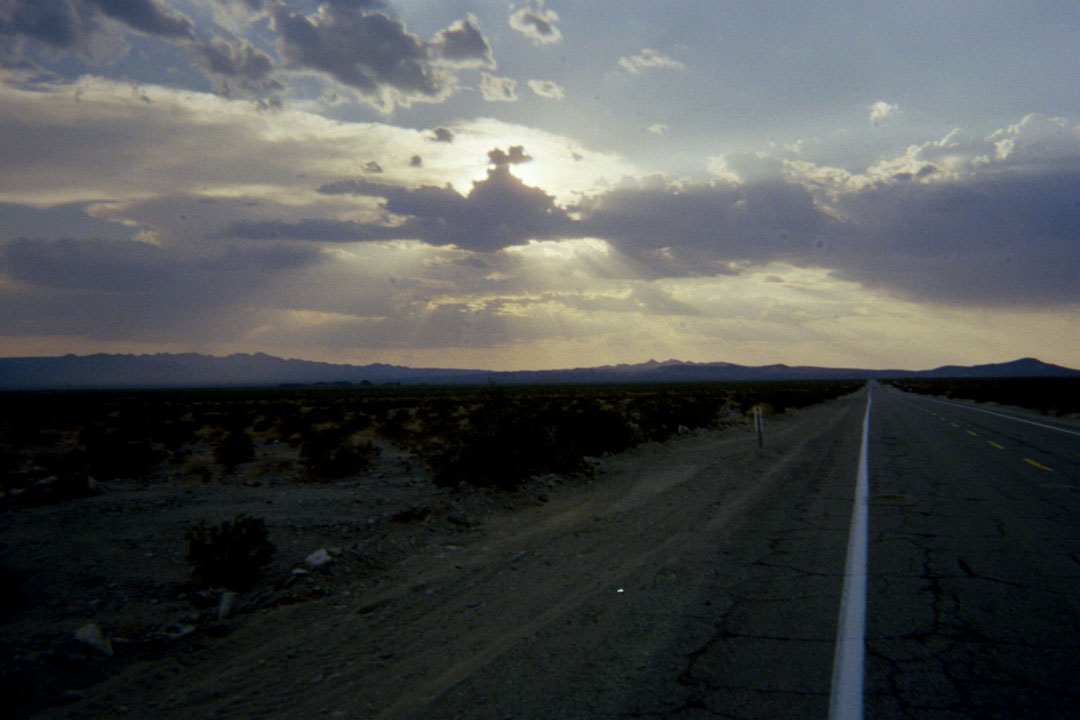 I made it to Newberry Springs where Route 66 joins up with the interstate and the famous Baghdad Café is located.

There was a cult movie with the same name made in the 80's, when apparently it was still operated on a stretch of land in a town that no longer exists at all; not even signs or old ruins of buildings.

Someone decided to build a replica and place it in Newberry Springs to try and attract more of the interstate traffic, but when I arrived, it was closed down; symbolic of everything I had passed through that day.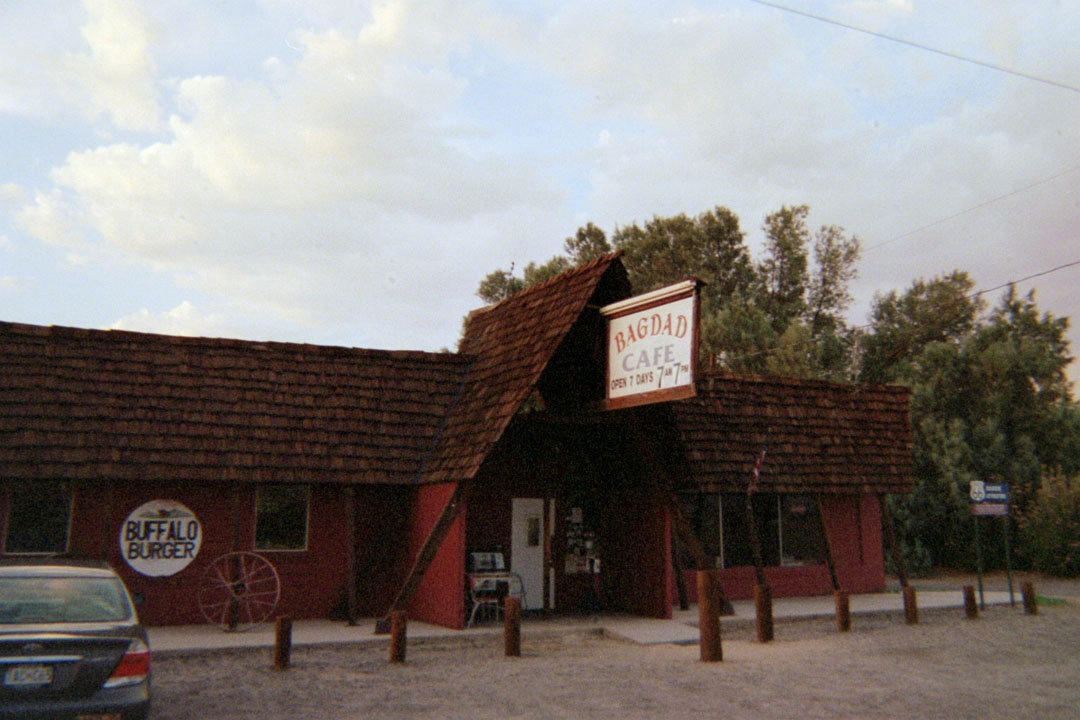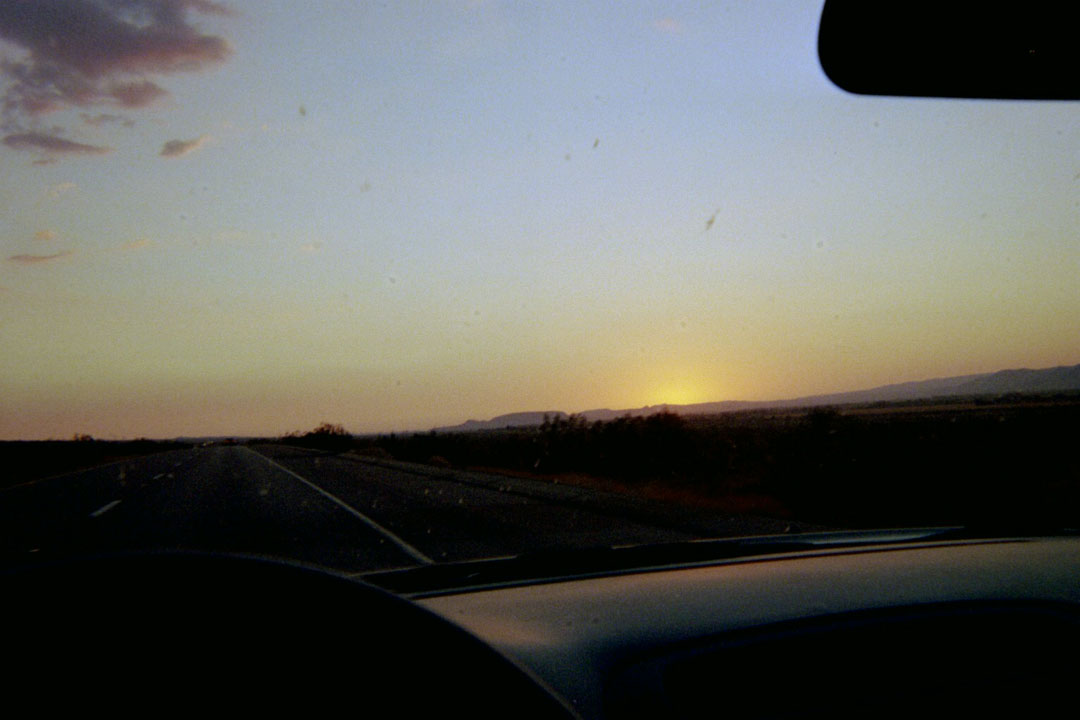 At this point I was starving, so I hopped onto the interstate and drove the last thirty miles or so into Barstow. I drove along the main street, which was filled with fast food restaurants and chain hotels, which was disappointing. I pulled into the parking lot of the place I had planned to stay, The Cactus Motel, and immediately turned around and drove out. To say it was run down would be a compliment. If there were a crack-cocaine themed Monopoly game, this would be Baltic Avenue. I got the hell away from there pretty quick and went back to a Comfort Inn. I checked in and walked across the street to find a place to eat but it was ten o'clock, and the few independent restaurants were closed, so I had to settle for a Del Taco. The less said, the better. I then went back and did laundry until about 1am before falling asleep.
Day 14
I woke up early and started out of Barstow, driving for about an hour or so on the last stretch of desert I hoped to see for a long time. The Bob Dylan ran out here with the end of Blonde On Blonde, so even his Bobness' extensive catalogue could not sustain itself over the entire stretch of The Mother Road. I had taken some tapes out of the back the night before and decided that since I was still in a heartland-type landscape to listen to the best of John Mellencamp; you know, "Small Town," "Pink Houses," "Jack and Diane," all that stuff from the 80's.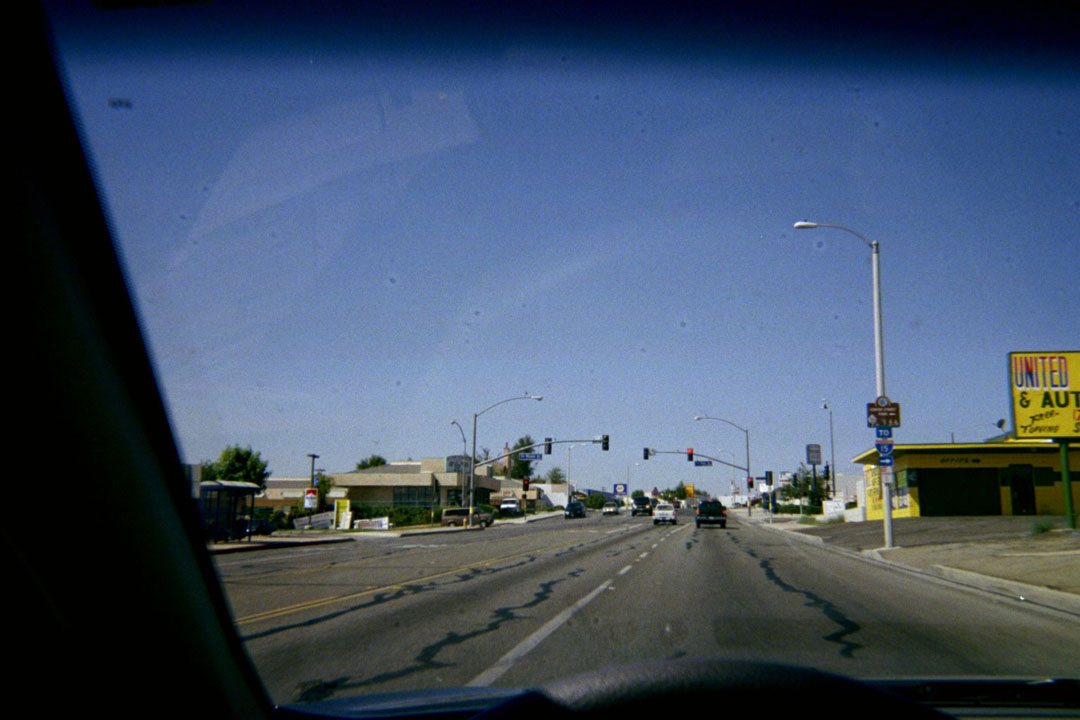 That tape ended perfectly, just as I entered San Bernadino County and the palm-lined streets of Rialto and Fontana.

I put in Don Henley's Building the Perfect Beast; another 80's classic and perfect for this kind of California driving.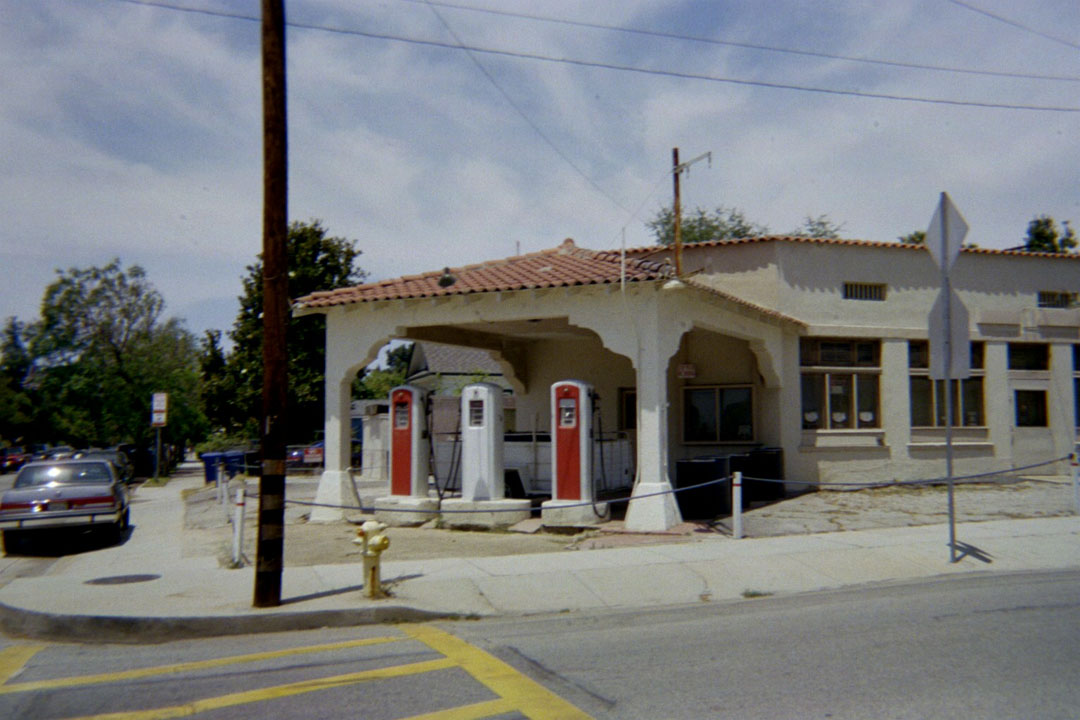 Passing through Rialto, I saw the other Wigwam Village and although the neighbourhood wasn't nearly as bad as portrayed in the guidebooks, the teepees, instead of being white, were a dull beige colour. The sign on the Holbroke, AZ motel had asked, "Have you slept in a wigwam?" The sign here in Rialto asked, "Have you done it in a wigwam?" and that, basically, in a nutshell, is the difference between California and Arizona.
Another half an hour of driving led me into Pasadena, which was a little more upscale. I wanted to find a place for lunch called Senor Fish that apparently has the best fish tacos in L.A. but the exit that I was looking for was called something else and I had already passed it by the time I figured that out. The highway from Pasadena into Hollywood is four lanes with a lots of sharp curves, and the drivers are completely insane, so stopping at the next exit and navigating my way back to a place that was only vaguely outlined in the guidebook was not an option. I said goodbye and good luck to Senor Fish and got off the expressway into Hollywood and Beverly Hills. It wasn't exactly the exciting drive you might think; it was pretty much like the outskirts of L.A. but with more people wearing sunglasses. I've lived in New York. I know New York. New York is a friend of mine. L.A.; you are no New York.
It took a full hour to get into Santa Monica and the heat felt worse than the day before because in the L.A. traffic, there was little breeze, but I finally made it to Santa Monica Boulevard and drove past the Shrine Auditorium where they used to have the Oscars before the Academy built the new Kodak Center a couple of years ago. I thought that it would be good idea to come into L.A. on a Sunday to avoid traffic, which for a while, it was, until I got into Santa Monica and realized that I was heading for one of the biggest beaches in the area. The traffic slowed to a crawl for the last ten blocks and the sweat began to make my entire head wet, but after about half an hour, there I was; at the intersection of Santa Monica Boulevard and Ocean Avenue; the boardwalk and beach and the mighty blue Pacific Ocean laid out before me. This was the end of Route 66; The Mother Road.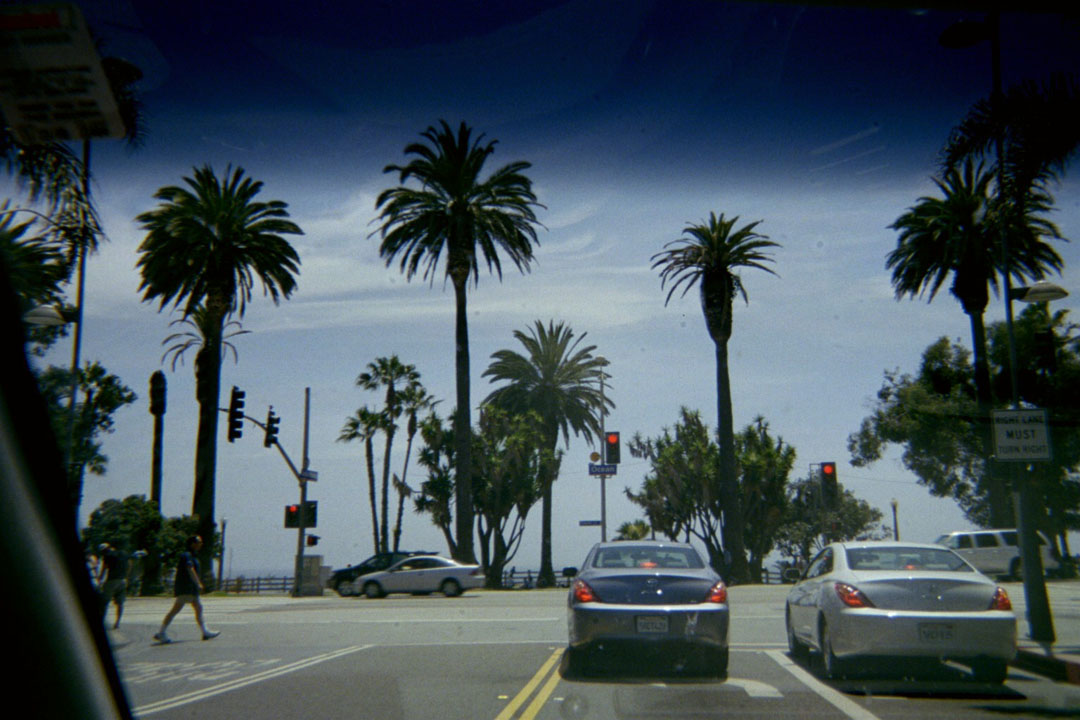 I had planned to stay at the cheapest place in the area; the Santa Monica Travel Lodge.

I pulled into the last parking space and I guy came out from the office and warned me, "I only have one room left and its smoking."

He looked completely bewildered when I broke into a huge grin, the sweat now pouring from my face.

I turned off the ignition, got out and said very dramatically, "I'll take it!"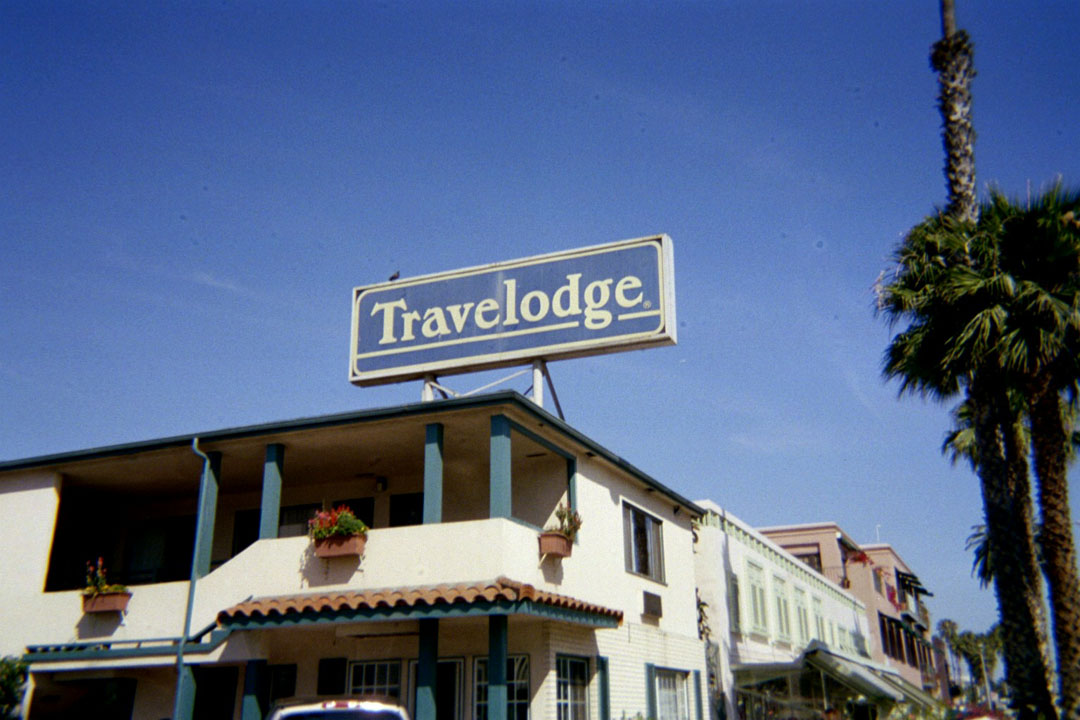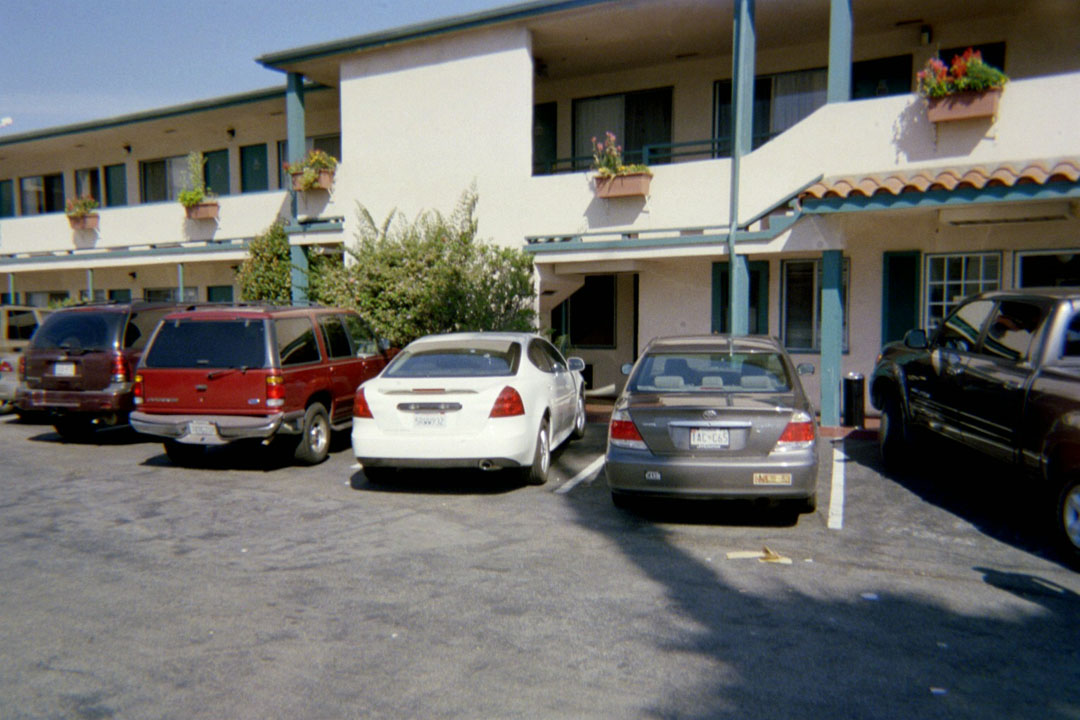 It was only 1pm and the room had not been made up yet, so the guy at the desk suggested that I check out the pier. I asked where I could get some fish tacos and he said there was a small restaurant on the pier that served them as well as beer. That delightful four-letter word had never sounded so good before in my entire life, and believe me, it has sounded pretty good on many occasions in the past.
So I left everything in the car and walked just one block south to the famous "Welcome to Santa Monica" pier sign. It was packed with people strolling along or going to the beach. I'm not a beach person but I am a bar person, so I caught sight of Rusty's Surf Ranch pretty quick, and walked in, got a large beer on tap and an order of fish tacos. This was definitely California; almost everybody was wearing sunglasses inside and all the bartenders and waitresses looked like aspiring actresses, which was fine by me. It made up for the fact that the only thing on TV was a Dodgers game.
The tacos were pretty good and the beer was excellent but I wanted to check out the rest of the pier so I left and walked down towards the end of it. There were lots of little amusement park rides for kids and a couple of restaurants. At the end, there was a whole line of people fishing of the end of the pier. I stayed for a couple of minutes but didn't see anyone catch anything, but then again, I don't think that was the point. Everyone just seemed to want to chill out and look at the ocean, while holding something.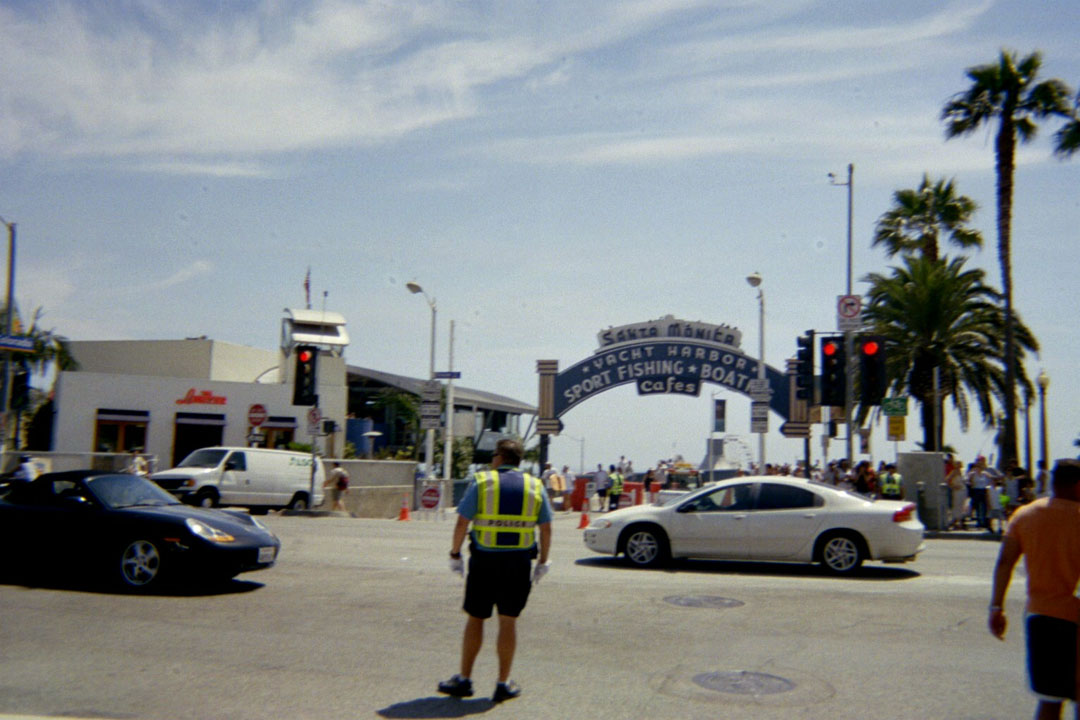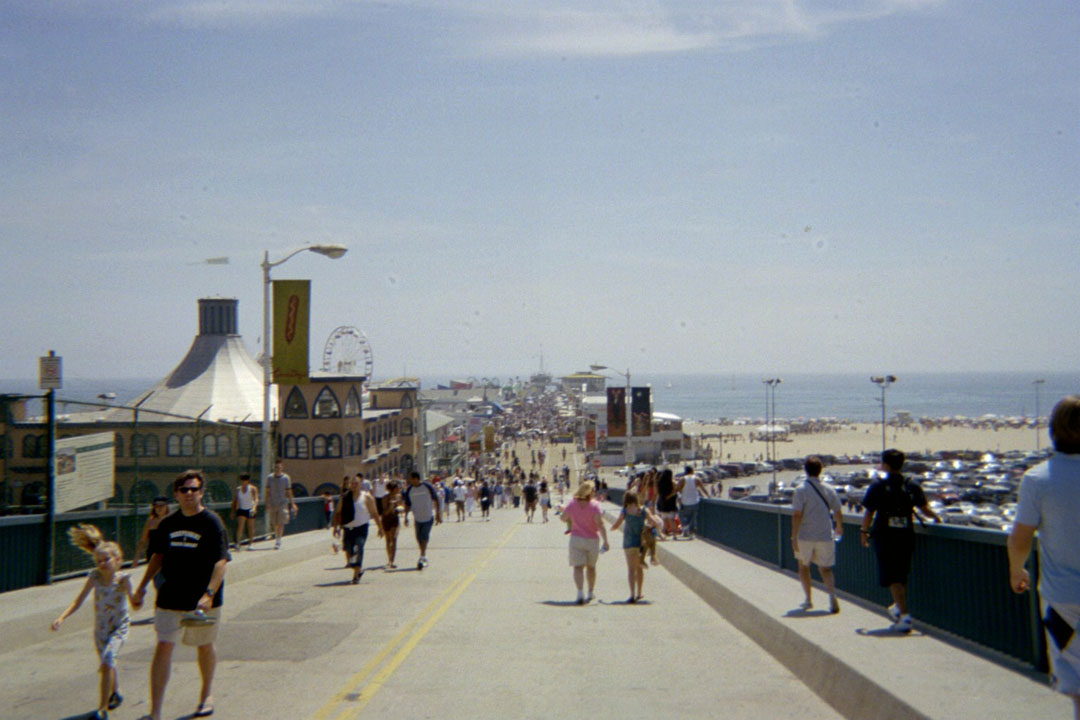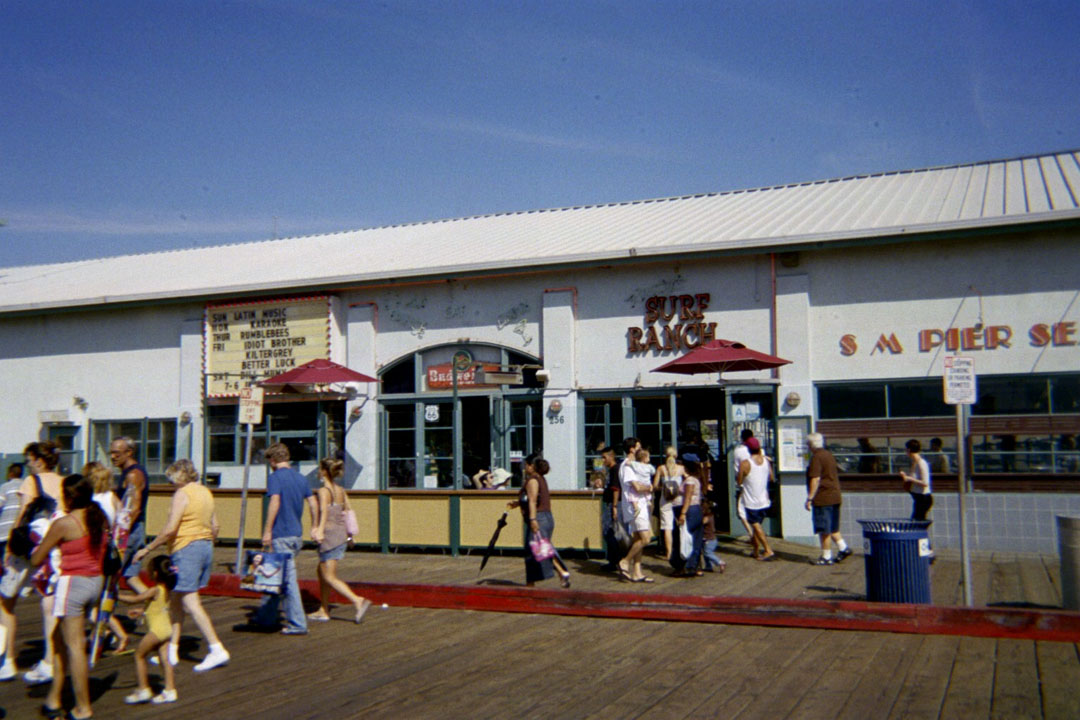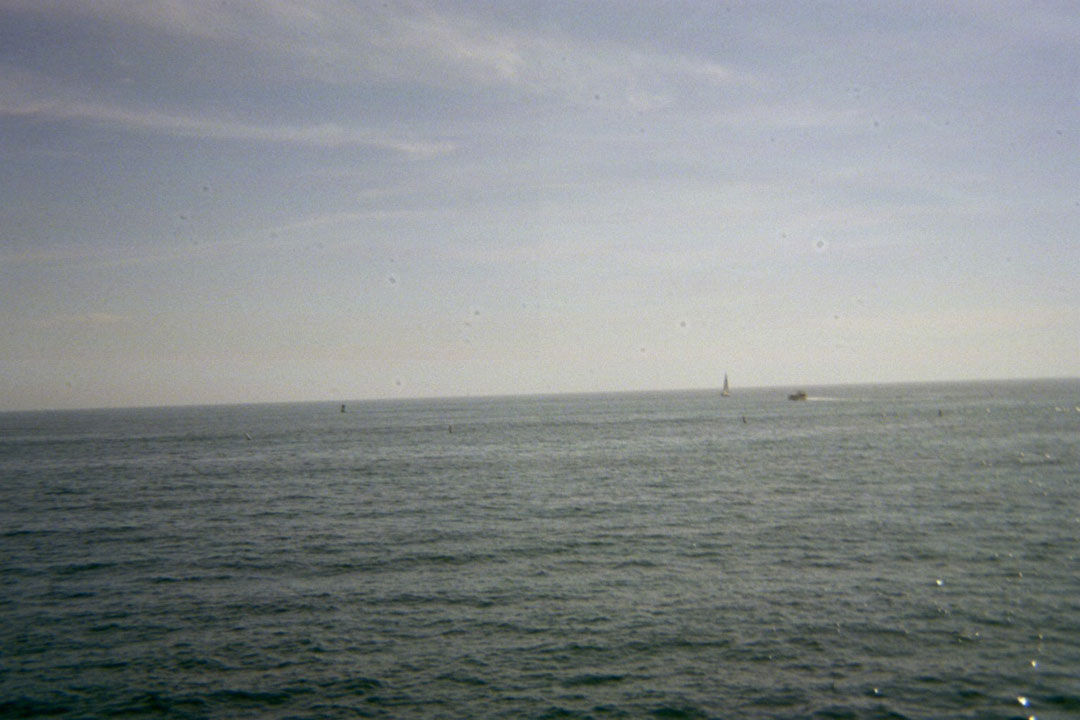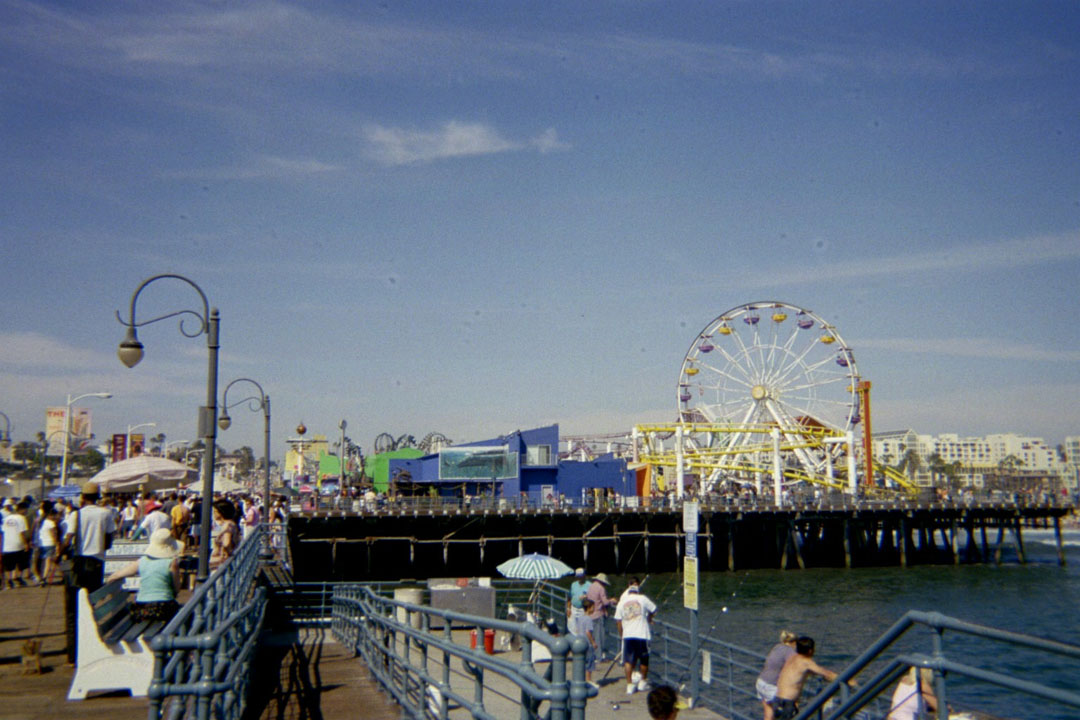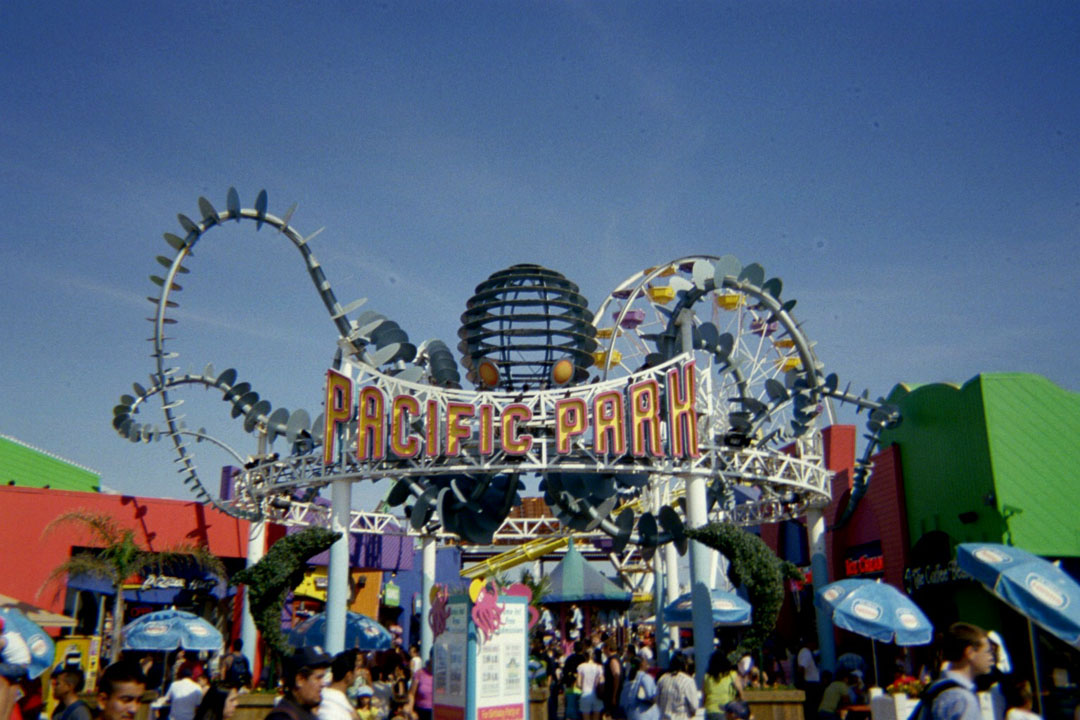 There's quite a few characters roaming around the Santa Monica pier, and on my way back, there was a skinny guy who was so pale it looked like he had never seen the sun. He was oiled up and wearing only a stars and stripes thong Speedo. Depending on your view it was either the funniest thing ever or the most disgusting. I thought it was a lot of both. Most people were laughing but there were quite a few women who were retching. One woman looked like she was getting the dry heaves while her two friends were doubled over with laughter. Welcome to L.A.
I walked around the Santa Monica area for a little bit and then went back to the hotel and the freshly made-up room. I took a nap and then got up around eight for dinner. Being right across from the beach I felt like having seafood and there was a restaurant just two blocks away called Ocean Avenue Seafood.
The ocean breeze felt great as I walked to dinner with the sun was setting over the Pacific. The restaurant was a lot fancier than I imagined but luckily I wore a dress shirt as the temperature had actually cooled off some. I sat at the bar and ordered the special; fresh Pacific salmon in a pinot cherry sauce and it felt like I had entered a different world. I was no longer in the heartland, at some diner ordering a chicken-fried steak. I felt like a bit of a snob but it was nice to just taste something that had some complexity to it; that wasn't dry, bland and greasy. (And if you think that food cannot be both dry and greasy, then you haven't been to the Falcon Family Restaurant in Winslow, Arizona.)
I walked around a little bit more, but all the bars were packed with the hip, young beautiful L.A. people, with their sunglasses (still!) and cell phones. It would be a chore just to get in, let alone get a beer, so I just bought a couple of tall boys at the liquor store and drank them on the balcony of the hotel, while looking out at the white ripples of waves as they calmly broke onto the shore below.