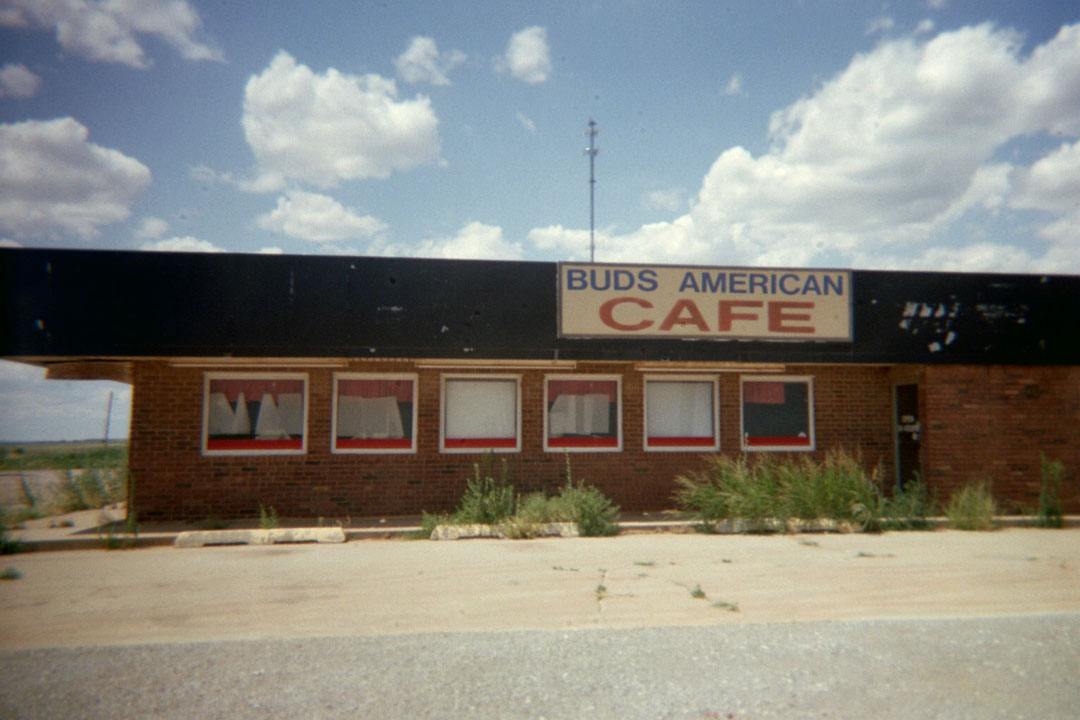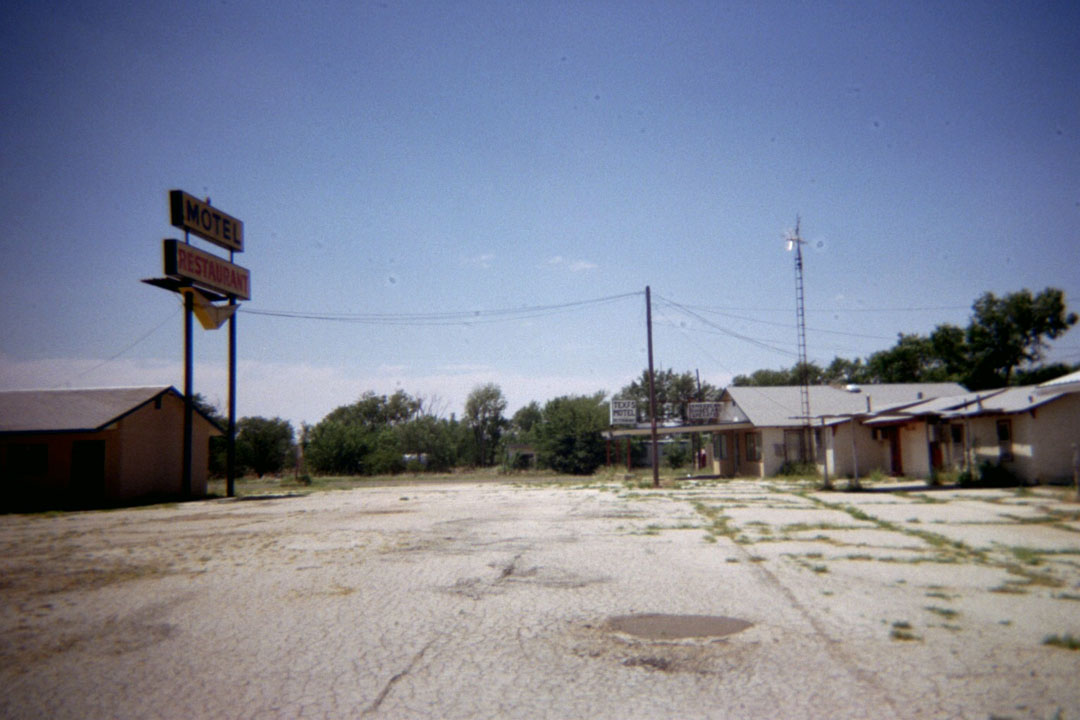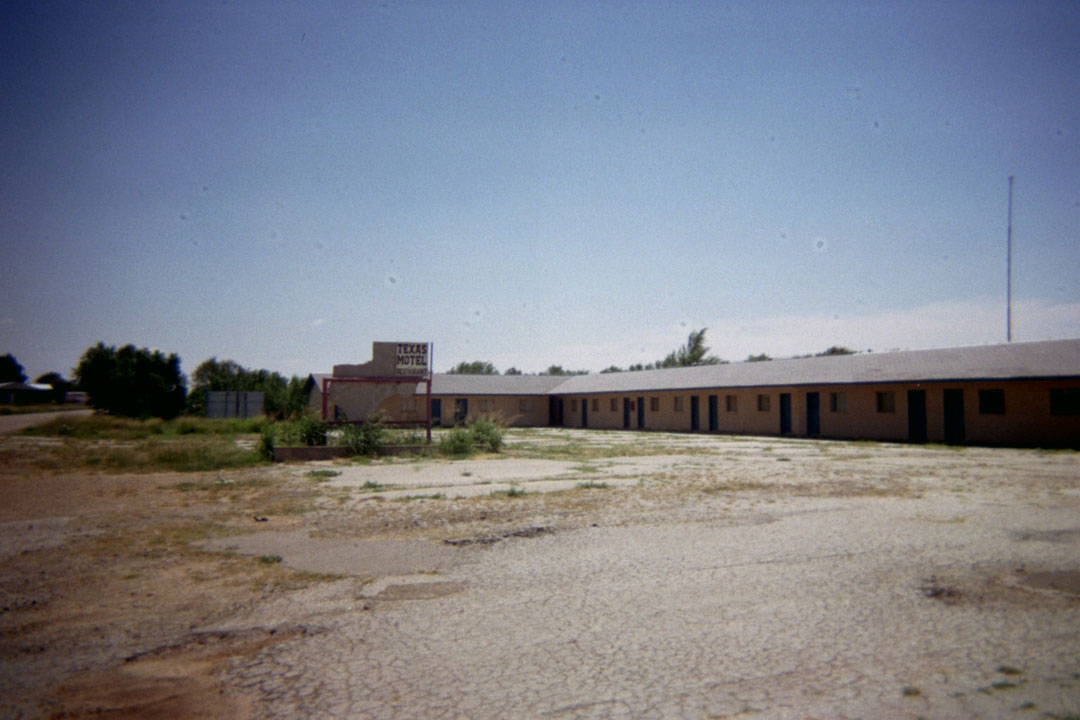 Another couple of hours later I pulled into Shamrock, Texas, which is home to the classic, art-deco style former gas station and diner, The U-Drop Inn.

It is now the offices for the Shamrock Tourist board.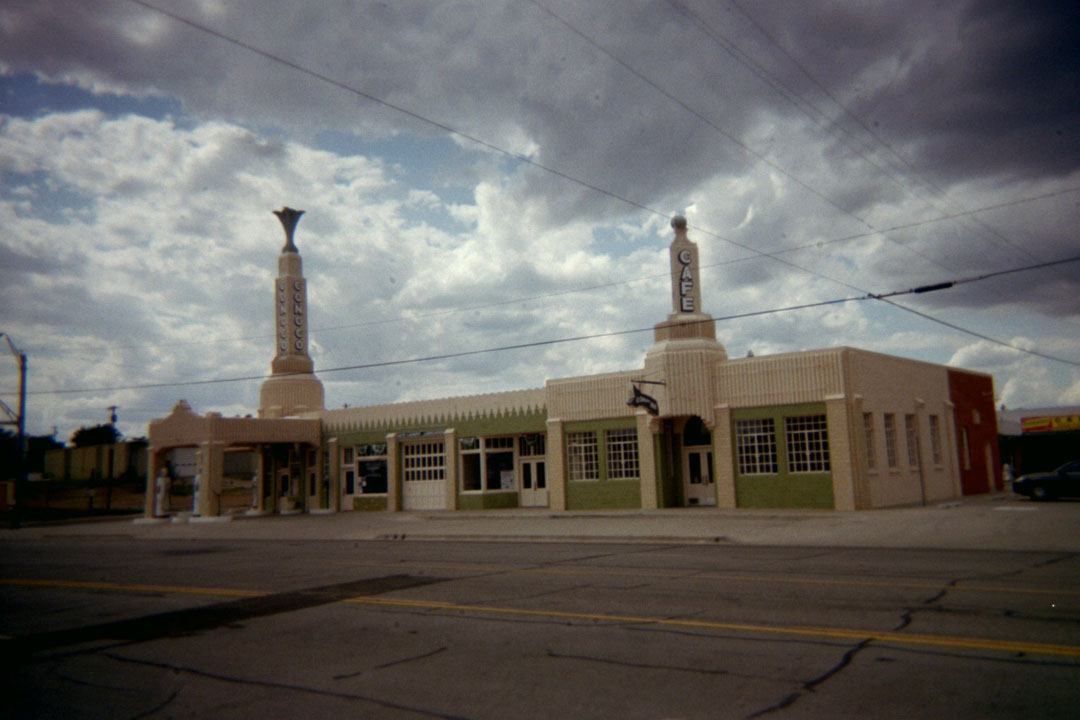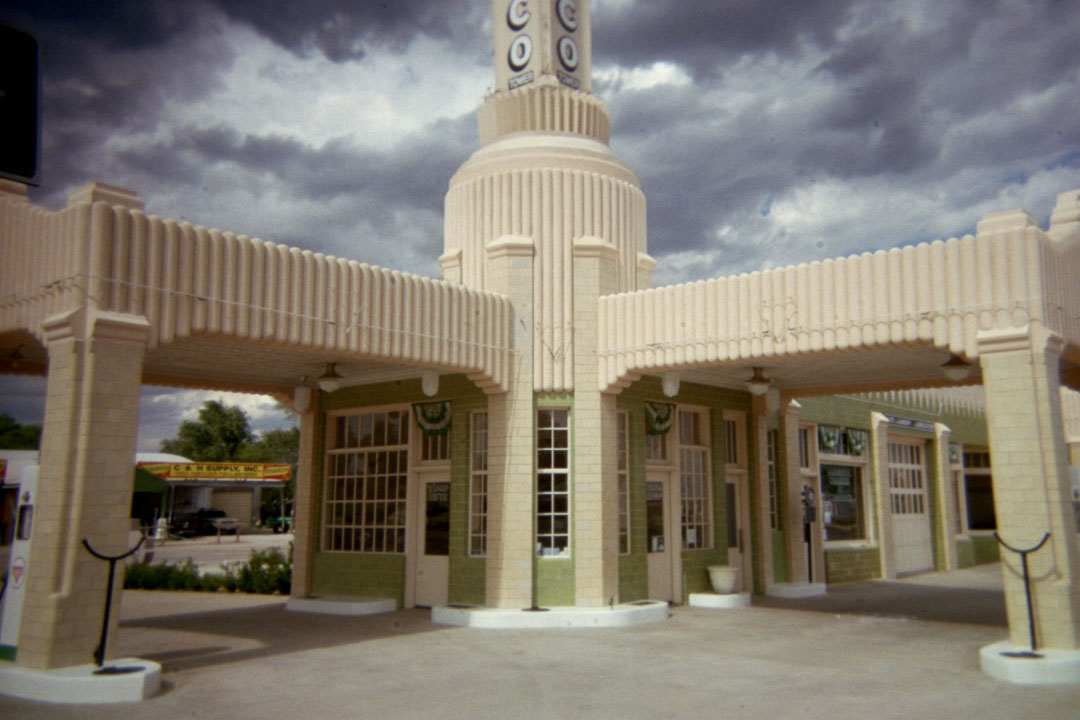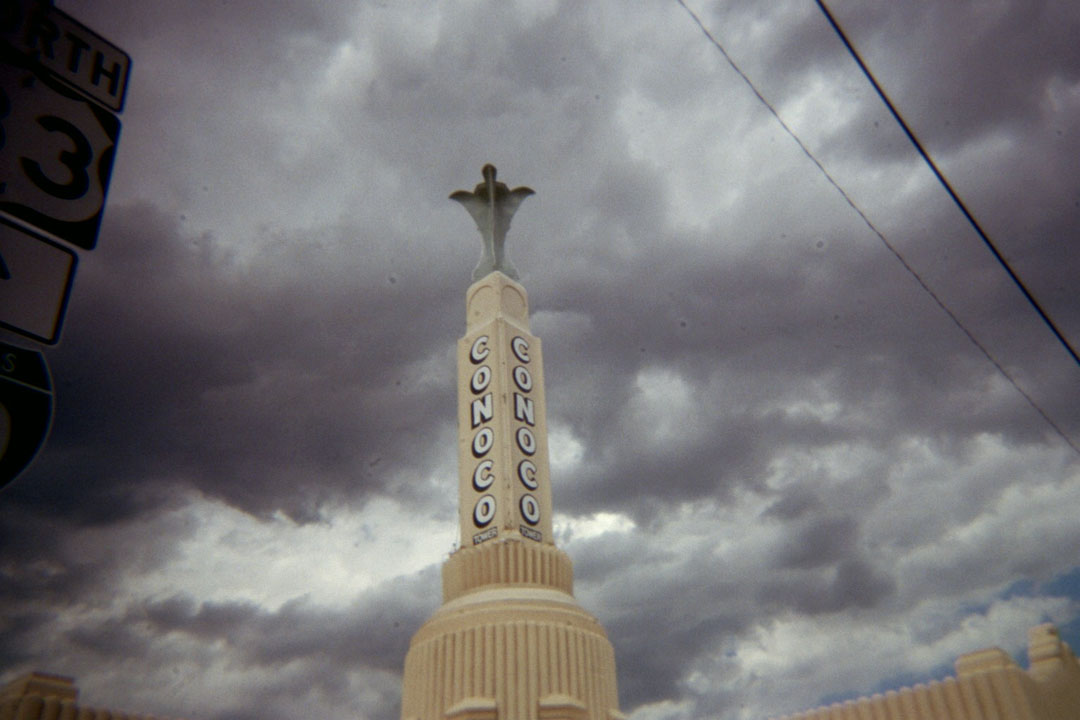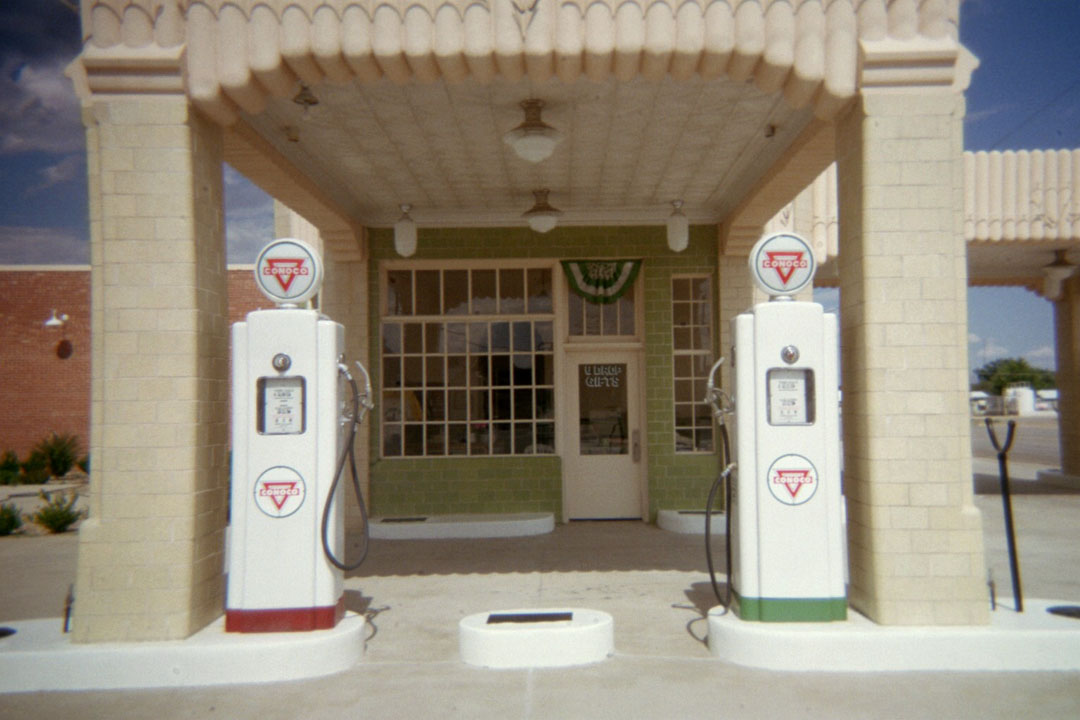 I was then planning to stay at the hotel across the street but everything in downtown Shamrock looked really sketchy. Some of the hotels are boarded up and there are a lot of junkyards scattered through the downtown strip. Luckily, I noticed a sign for The Irish Inn that said swimming pool and HBO and located close to the interstate so I thought it sounded more promising.
When I got to the lobby, the girl behind the desk told me they had a pool, HBO, a restaurant, laundry facilities, etc., etc. I didn't really care until she got to the part where she said, "and we do have a bar and lounge, and since this is a dry county, it is the only place to got alcohol in Shamrock." Wait, what? I'm in a dry county? How the hell did that happen? Do dry counties still actually exist? The girl behind the desk assured me that they did most certainly still exist and that I was in one of them at this very moment. "But if you stay at the hotel, you will automatically be put on the bar's registry of official members," she said. Well, once again, fate intervened and made my choice for me.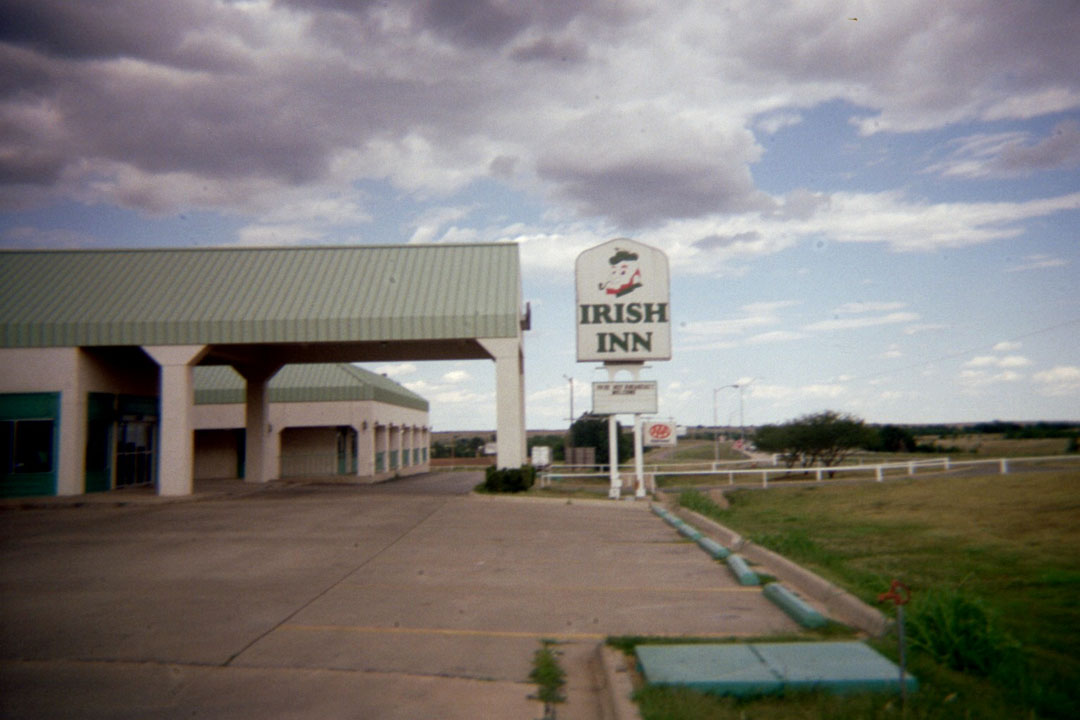 I did some laundry and then had dinner at the Irish Inn Restaurant. I tried the chicken-fried steak this time and regretted it right away. It's like a Salisbury steak coated in chicken-tasting fried coating. Is it chicken? Is it beef? Both? I ate about half and left, not liking the fact that my food was giving me mixed signals.
At the Irish Inn Bar and Lounge, there were no mixed signals. I drank bottles of Bud and watched a baseball game with three other guys, all of whom were wearing camouflage trucker hats. Once again, I was the odd man out. But some younger people showed up later and I shot some pool with them, so it turned out to be a decent time.
Day 8
I woke up at The Irish Inn and watched the Italy-Australian match which Italy won on a controversial call for a penalty kick in stoppage time. Let's face it, the Italian player took a dive. It's what the Italian soccer team does best.
It would be another short day, so I set out to Dylan singing "Pretty Boy Floyd" from the Folkways Woody Guthrie Tribute album. The next two days would be mostly Dylan covers as I would be hearing Good As I Been To You and World Gone Wrong, his two folk song cover albums.
It was another hot day, and I finally remembered that my friend, Amy, from Baltimore had given me sun block before I left, so I parked the car at a gas station and dug through some bags in the trunk until I found it. Relief for the trucker's arm at last.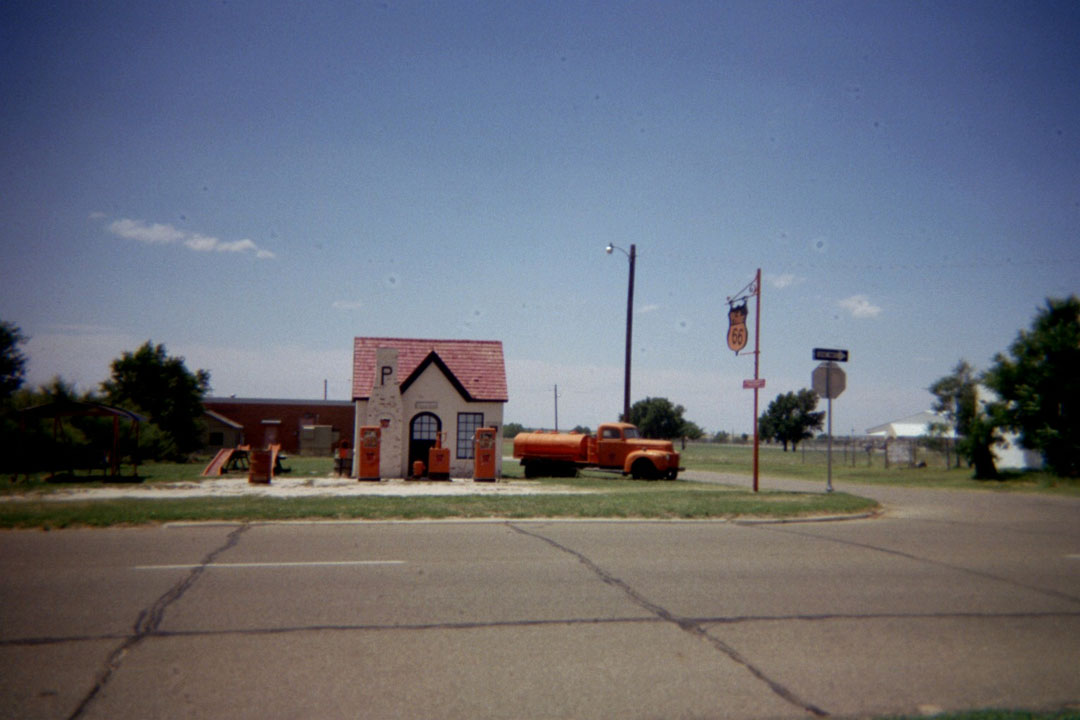 Now that I was in Texas I was going to spend my time here eating nothing but steak.

It was going to be all steak, all the time; a veritable steak festival, but when I got to the Red River Steakhouse in McLean, they were closed on Mondays.

I continued on, thinking that this being Texas, I would hit a steakhouse at some point but as I passed through Groom and The Leaning Tower of Texas, my stomach started rumbling.

I made the decision to stop in Conway no matter what since it was the last big town before Amarillo.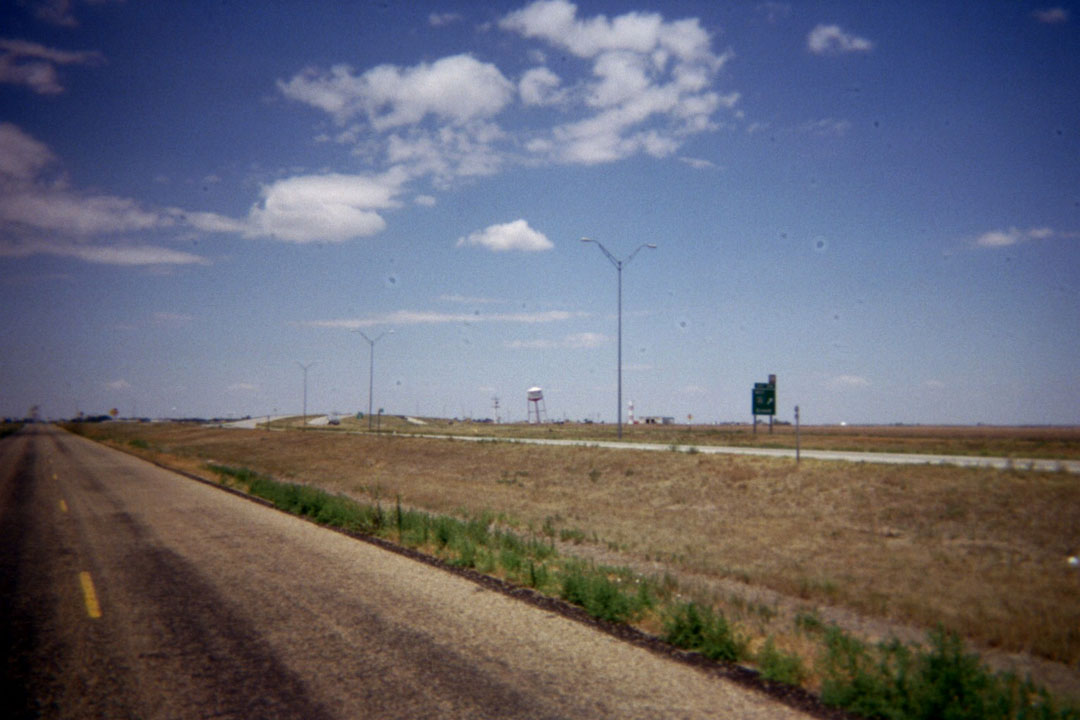 Well, Conway has hit some tough times and there's not a lot there that isn't closed down and boarded up, but just as I was leaving town, I passed by a restaurant that looked open called The Blessed Mary. I stopped the car and walked into one of the strangest places on my trip. There were statues of Jesus and the Blessed Virgin everywhere, interspersed with huge paintings and photographs of the Pope; both the old one and the new one (Pope 2.0) Each table was dedicated to a different saint that I guess watched over your food and blessed your fork or something, so I chose St. Paul, being a fan of Johnny Cash's song, "The Man in White" about Saul of Taursus and his conversion to St. Paul on the road to Damascus. There was one other trucker there, quietly eating a burger by the window. The owners were an elderly couple; she took my order for beef tacos and he shuffled very slowly into the kitchen to make them. After he was done, he slowly brought them out to me and then retired to a corner of the restaurant where he sat down in a Lazy-Boy recliner next to his wife who also had her feet propped up in her own Lazy-Boy, watching a small TV that they had set on one of the tables.
I finished the tacos, which were pretty good and then waited to get the check…and waited…and waited. I finally stood up and said, "How much do I owe you?" She told me that I needed to read the front of my menu, which basically said that in the Blessed Mary Restaurant, the good Lord Jesus provides all travelers with food (isn't that St. Christopher's job?), but that the owners would appreciate that any donations be put in the donations jar. So I thanked them both and left a ten-spot in the half-filled jar by the door. And then I got the hell out of Conway.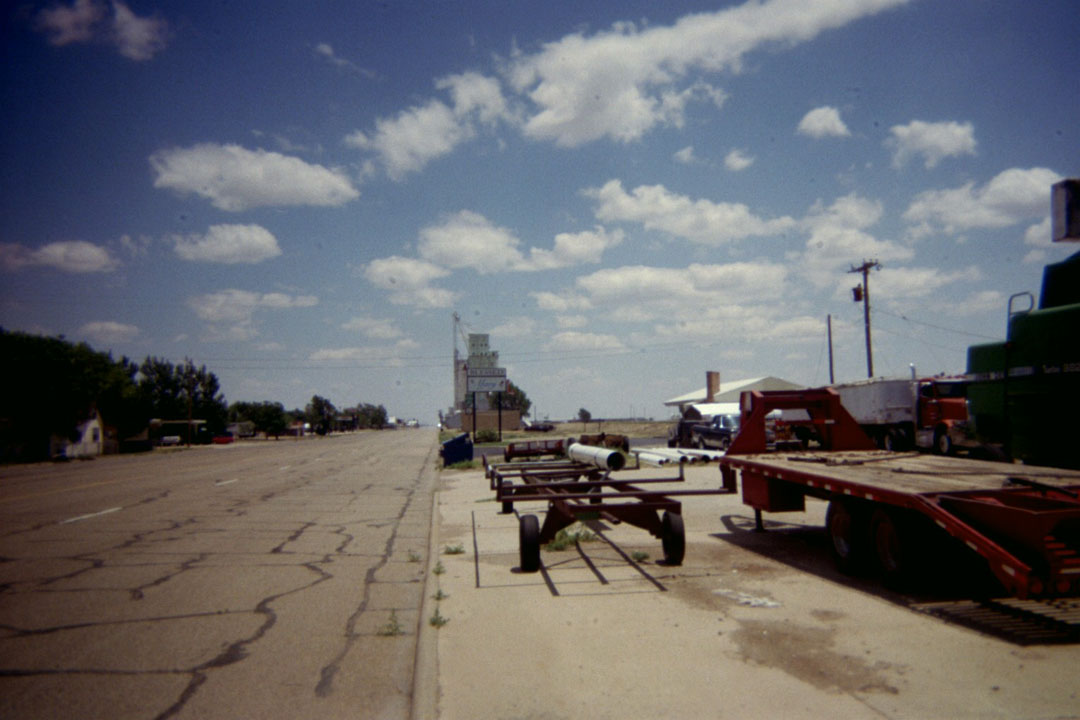 I drove for another hour or so through the flattest and emptiest stretch of road so far on the trip. It was a sunny day, with just a small dappling of clouds here and there.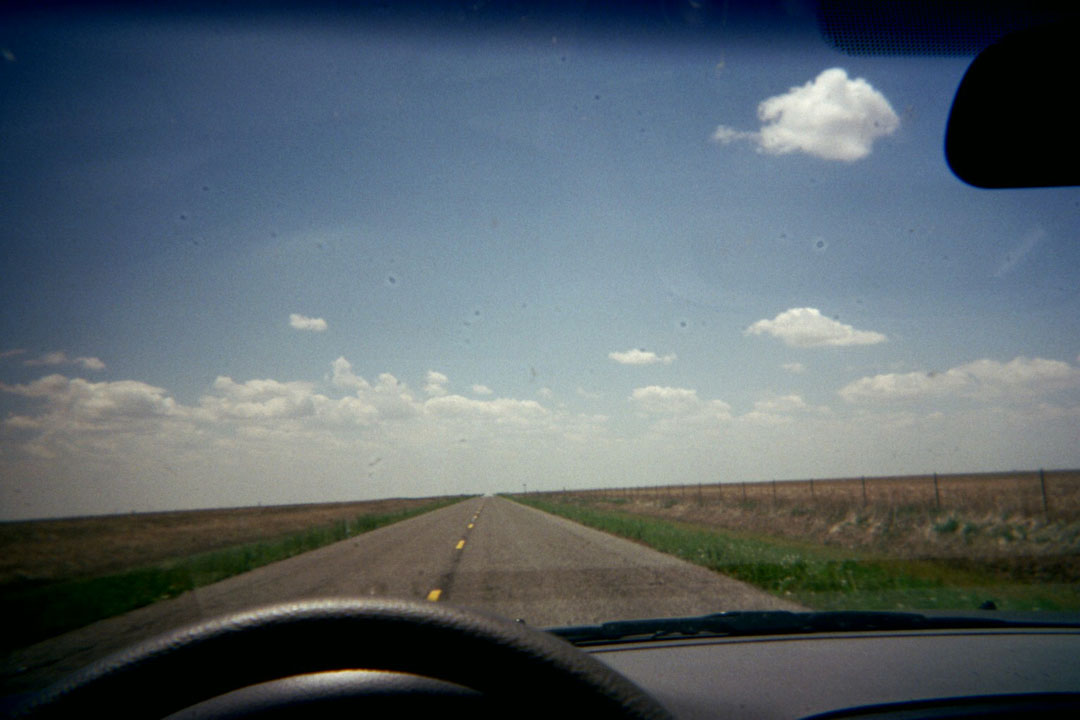 After another hour or so, I pulled into Amarillo and the parking lot of The Big Texas Steak Ranch Restaurant and Hotel.

Dylan was playing "Arthur McBride" from Good As I Been to You.

The Big Texas Steak Ranch Restaurant is home to the famous (or infamous?) "Eat a 72oz steak in under an hour and you get it free" deal.

The hotel has cowhide patterned bed sheets, saloon doors to the bathrooms, and a swimming pool in the shape of Texas.

It was perfect.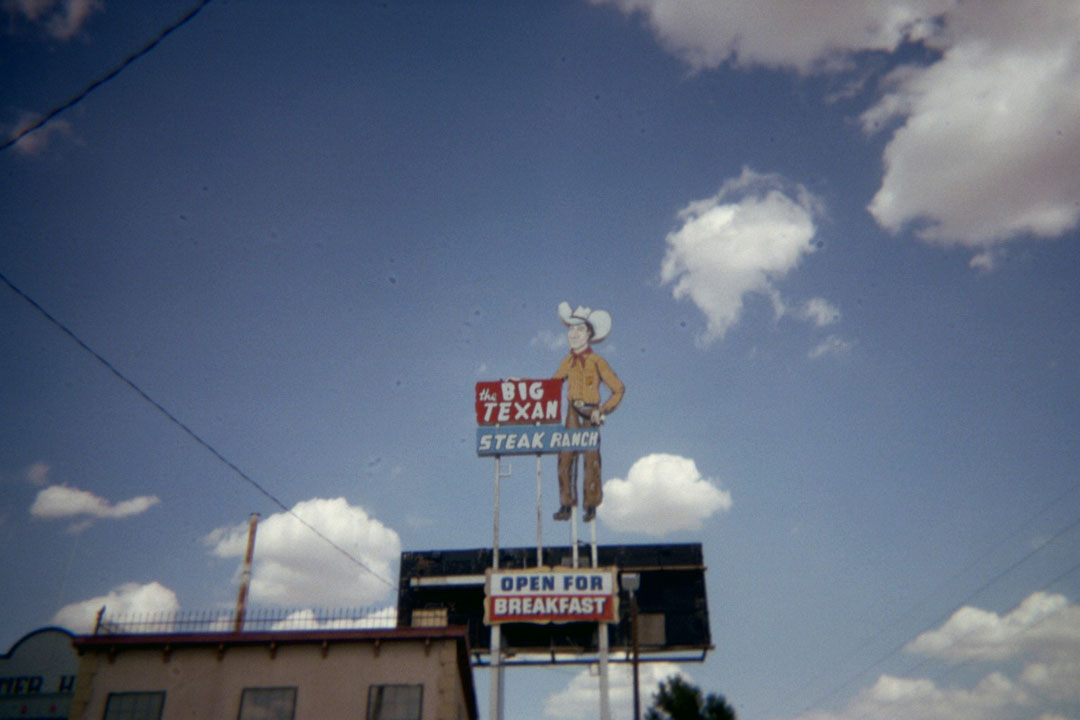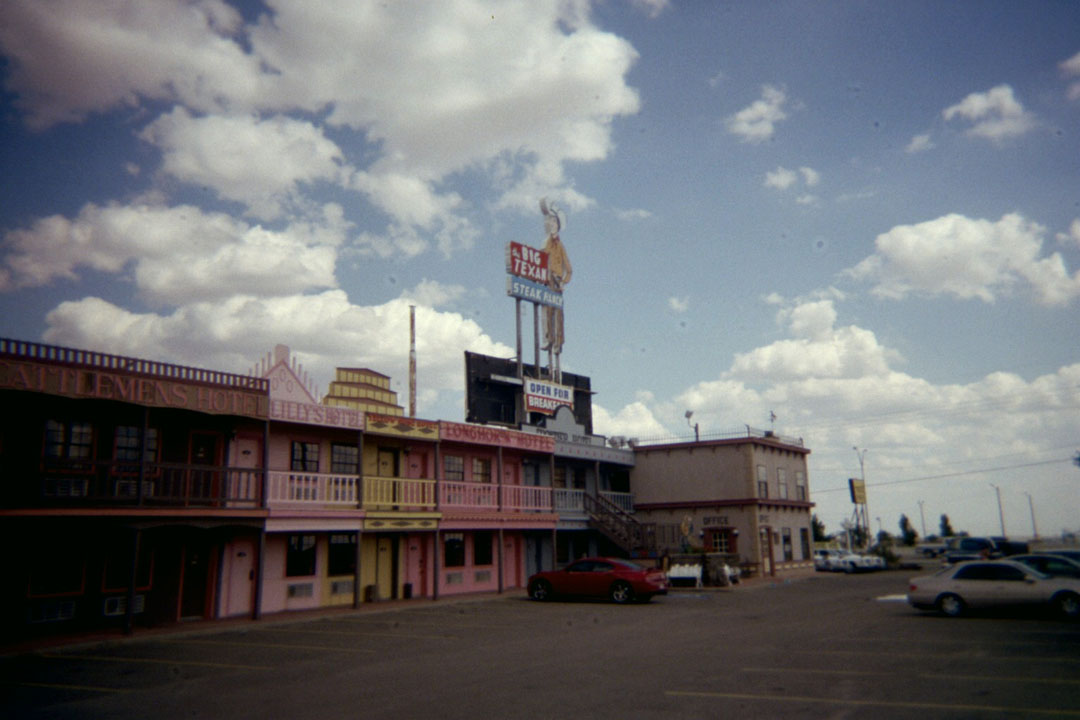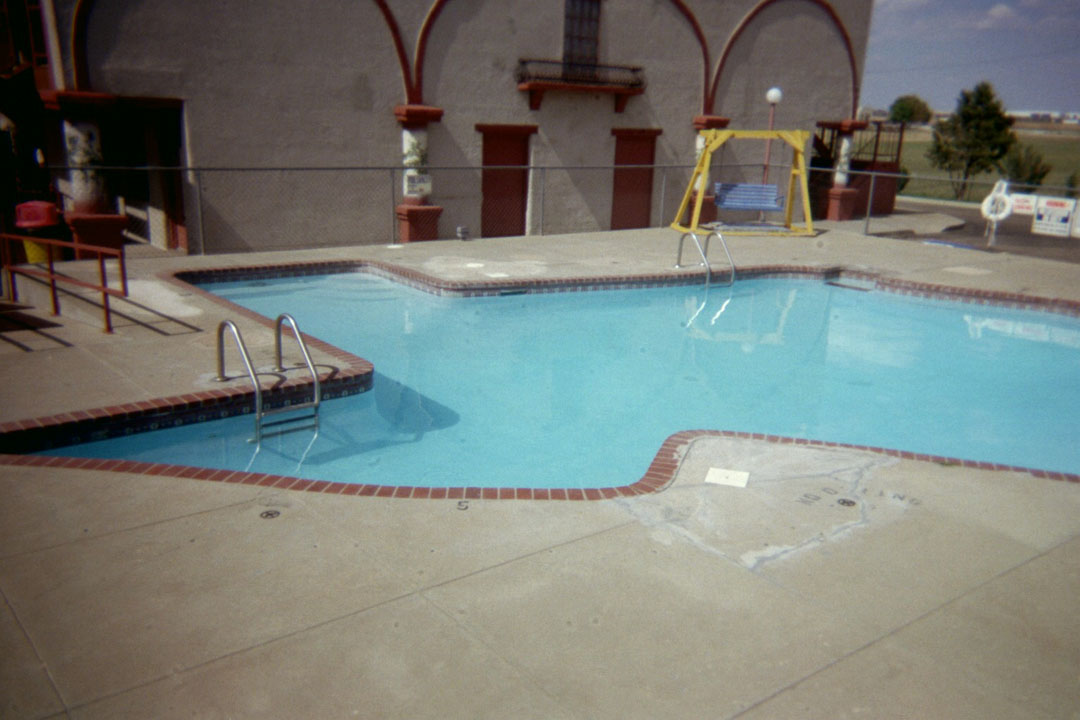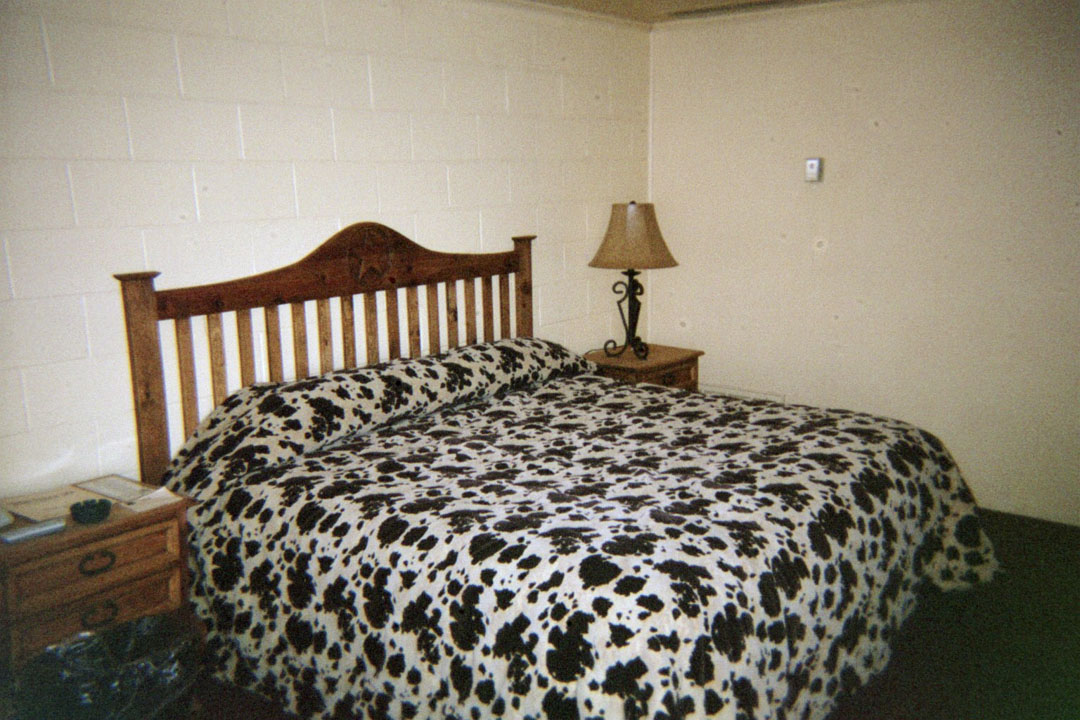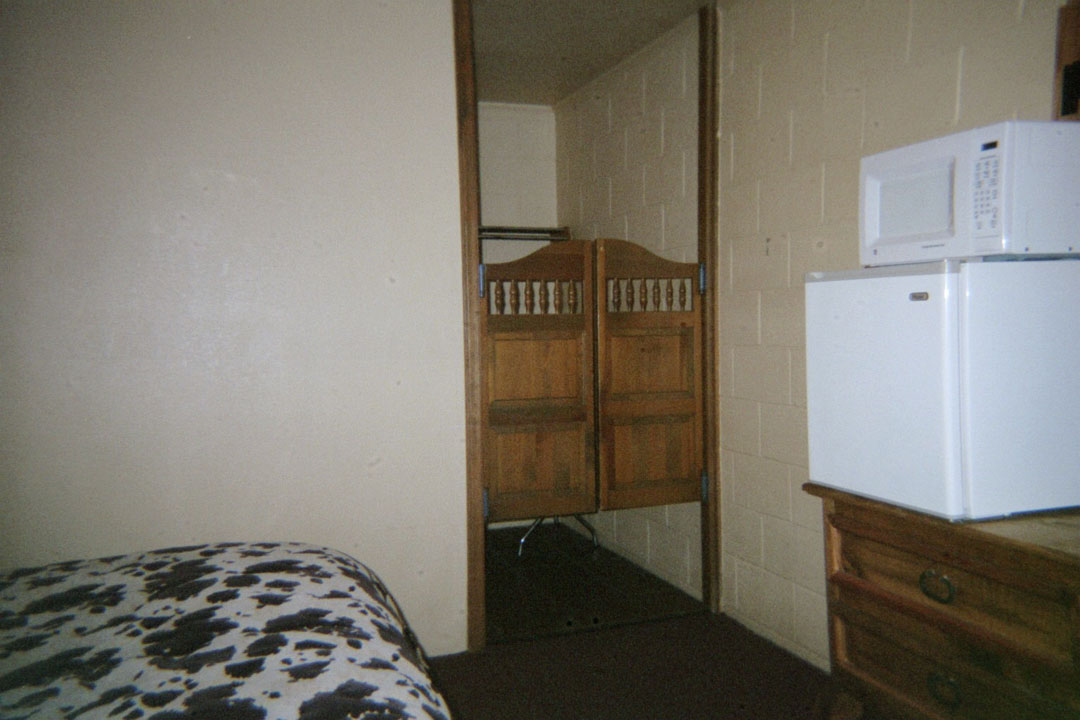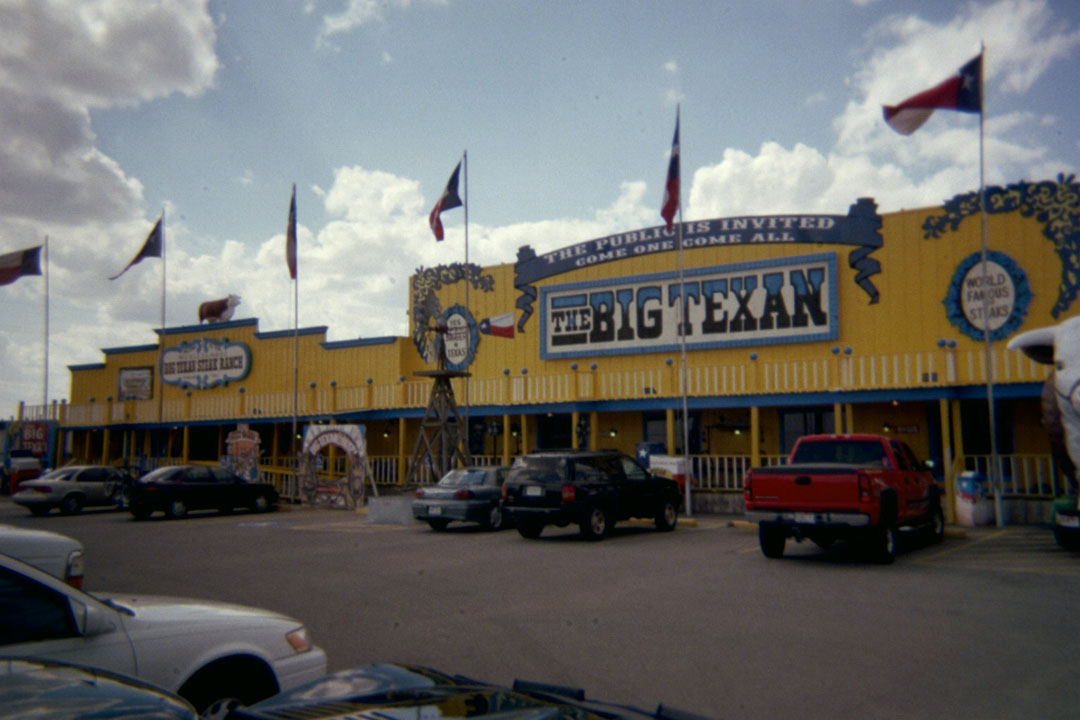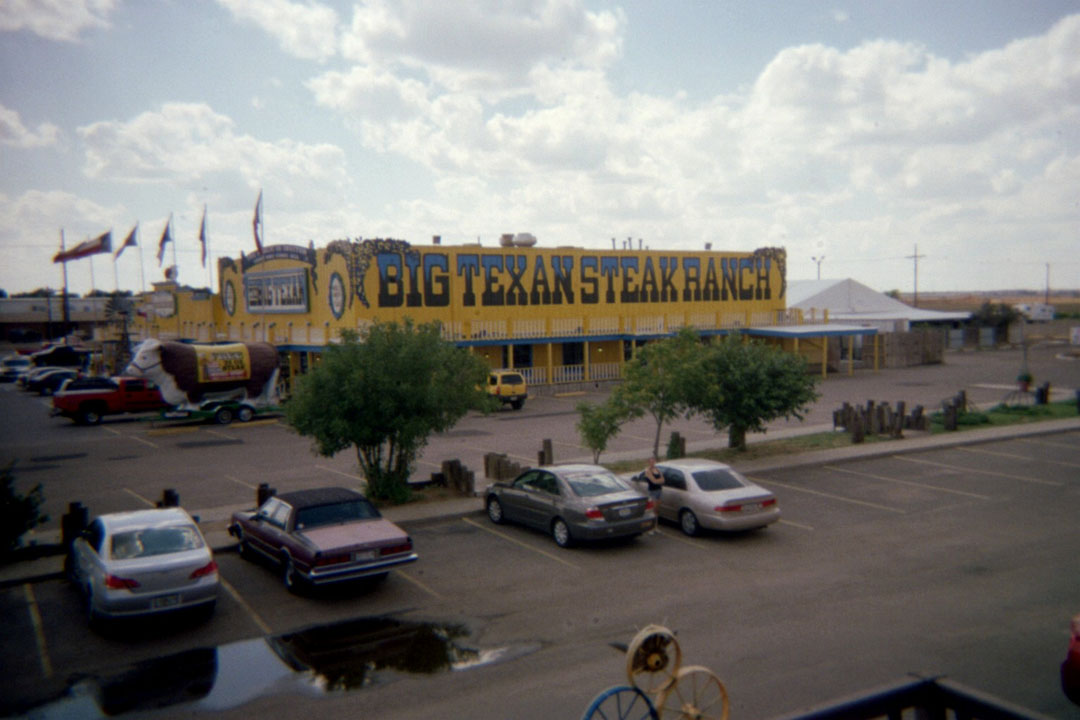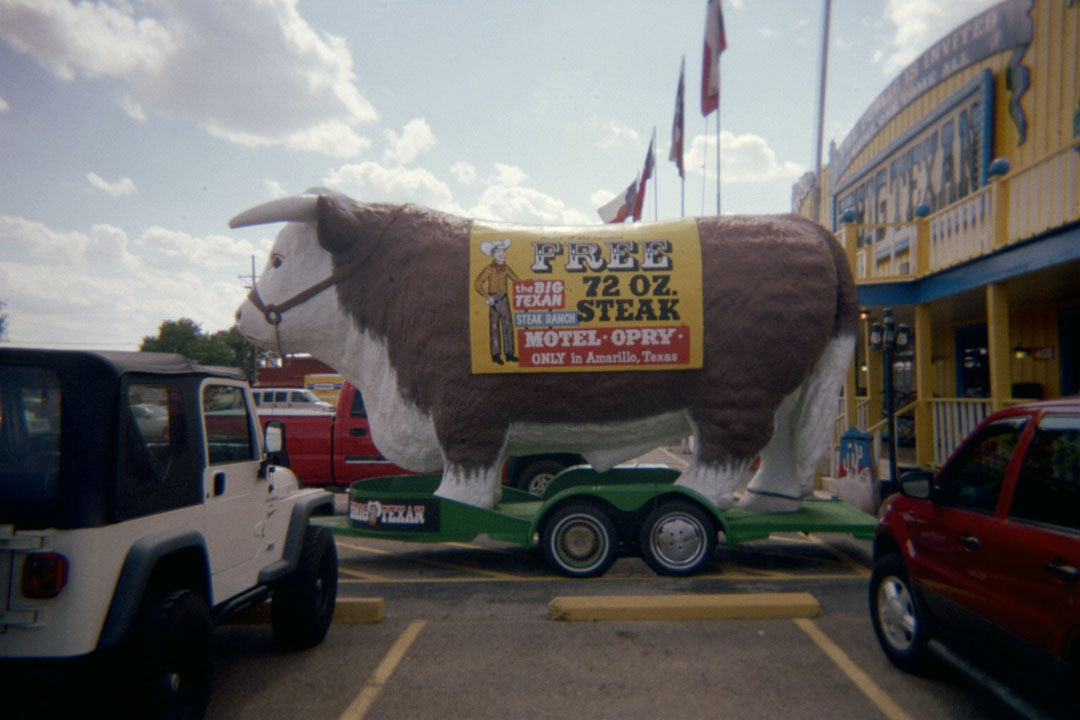 At about 6pm, I wandered over to the restaurant and was totally amazed.

In the waiting area, they had two full-sized stuffed black bears, a shooting gallery, slot machines and a 12-foot high giant rocking chair.

I got a beer and waited for my name to be called.

When I finally got into the main room of the restaurant I was floored.

There were moose and deer trophy heads all around the handrail of the second floor.

There was a giant skull of a steer above a fireplace that was behind the stage where participants in the steak eating deal would sit.

Unfortunately, my pictures did not come out, even with a flash.

I sat down at a table and looked over the menu, which was huge.

I ordered the fried rattlesnake as an appetizer and the 22oz Texas Strip (they sternly remind the customer that it is not a New York Strip, but a TEXAS Strip) plus a salad and a side of beefsteak tomatoes.

The steak was very good, the beefsteak tomatoes were excellent and enormous, and the salad dressing was great (all the dressings are made from scratch at the restaurant.)

So how was the rattlesnake?

Kind of rubbery, not a lot of taste or a lot of meat, and ultimately a disappointment except for the one fact that made it all worth the cost: I can now say that I've eaten rattlesnake.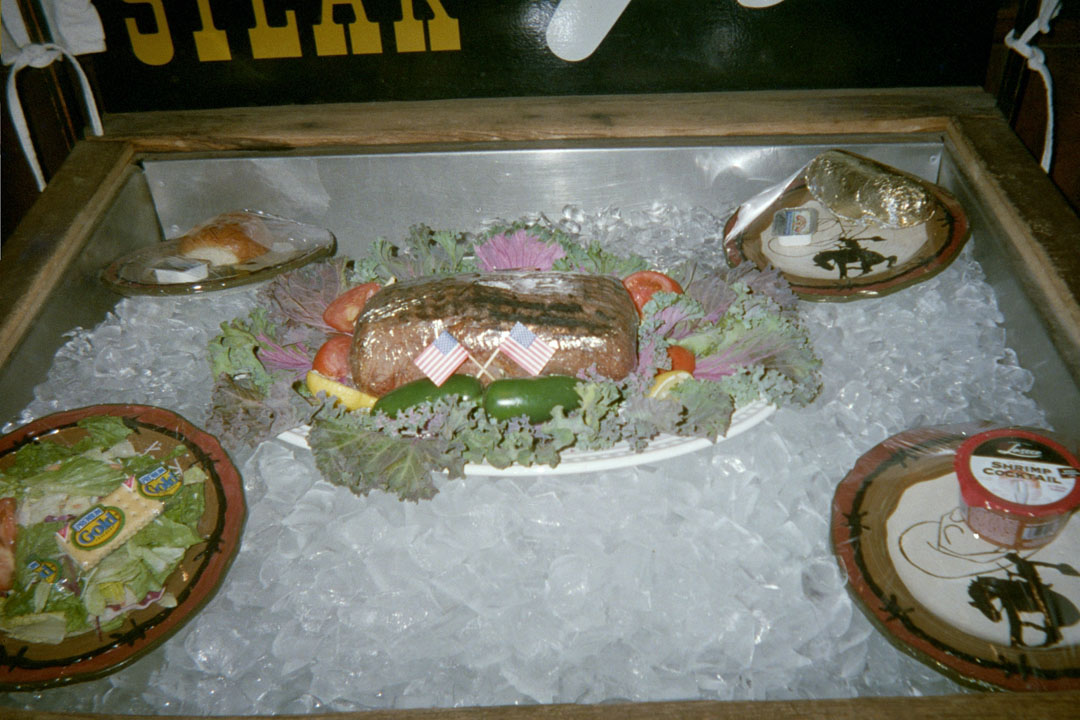 Why didn't I try to eat the 72oz steak?

Because I'm not completely insane…a little crazy, yes, but not completely insane.

But of course there were two lunatics from L.A. who did decide to try accomplish this mammoth task, so the big digital clock was brought out and placed behind the chairs and table on the stage and the manager introduced them and announced the rules.

Apparently 72oz of steak isn't quite enough.

You have to eat a 72oz steak platter, which also means a salad, shrimp cocktail, a dinner roll and a baked potato.

I think they added the baked potato as built-in insurance against some of the more ambitious eaters.

Well, as soon as they started eating, about twenty people came right up to the stage and started clicking away with their cameras at the two men, flash bulbs going off in their bewildered eyes.

I was one of them taking pictures.

After about ten minutes, the crowd died down to the hardcore fans; the Texas steak groupies, and if you think I'm kidding, I'm not.

There were about six women that hung out by the stage through almost the entire hour, with the exception of a few well-timed beer runs.

I was starting to second-guess my decision not to do it.

But in the end, neither guy got even close to finishing, and the groupies slunk off to the main bar.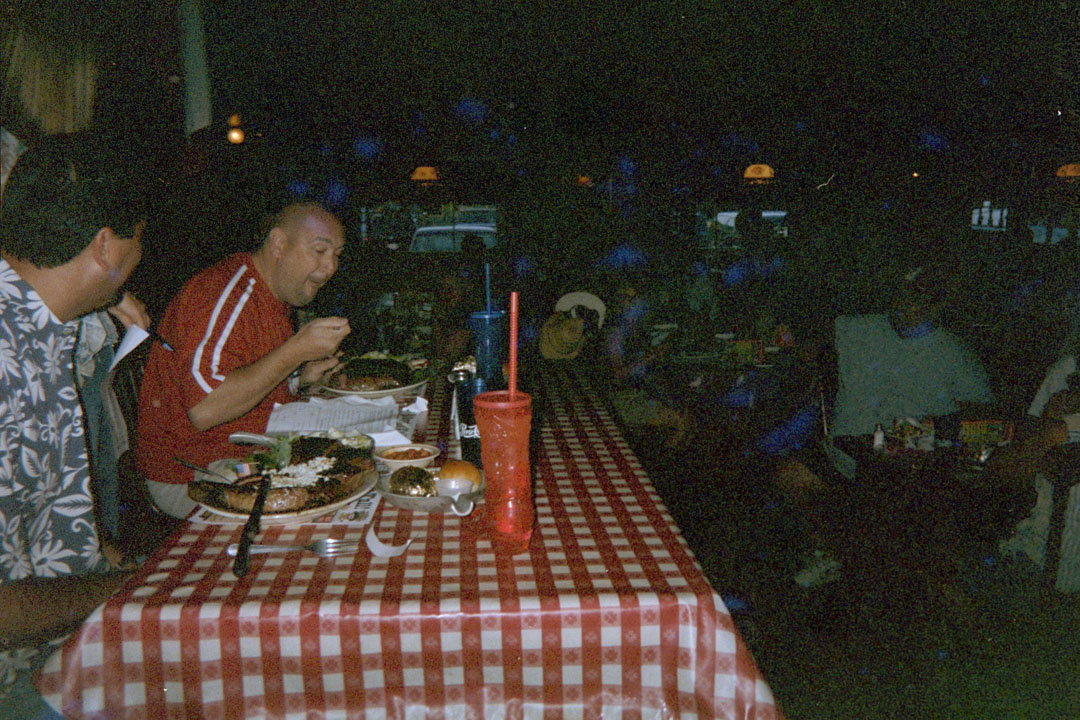 I had a few more large glasses of Shiner Bock (a really great Texas beer) in my new custom Big Texas Steak Ranch beer stein ($7.99 and you get to keep the glass, $3.99 for refills.) Then I headed back to the hotel and fell immediately asleep.
Day 9
I got up and set out mid-morning, knowing it would be a short day and that I could take my time. Bob was singing "You Gonna Quit Me" from Good As I Been to You. I got to the Mid-Point Café in Adrian, Texas about noon and ordered a grilled ham and cheese sandwich. The café was fantastic; with vintage booths and tables, and lots of Route 66 memorabilia covering the walls. The gift shop was also great, so I bought a bunch of stuff and headed out. I wish I could say the food was as good as the atmosphere, but the ham was cut thick and I'm more of a thinly-sliced kind of guy.